Naturally Educational » 5-6 (Kindergarten), 5-6 (Kindergarten), 5-6 (Kindergartners), 6-8 (Early Elementary), 6-8 (Early Elementary), Fall, Home Arts, Science, Smell, Touch » Apple Pomander Craft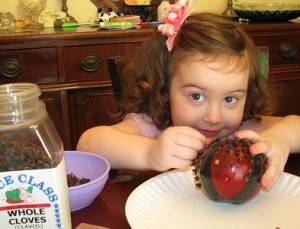 We've been on a bit of an apple kick here as harvest season gets into full swing in my semi-rural area.
Here's a fun activity that turns your apple pickings into a beautiful and fragrant craft: apple pomanders.
Materials:
1 Apple
Whole Cloves
Spices (Cinnamon, Nutmeg, Ground Cloves)
Sandlewood Oil or Orris Root (optional for additional preservation qualities)
Ribbon (optional)

Instructions:

If you plan on using ribbon, you can also first mark off where the ribbon will go with tape, then add the cloves over the rest of the surface, then remove the tape.


Push cloves into the skin of the apple, until the surface is covered.
Roll apple into spice mixture (mostly cinnamon)
Let sit out on a plate or in a paper bag until it cures

Here's another set of pomander instructions including some fantastic photos.

Variations/Modifications:

Younger kids may enjoy this activity but have trouble pushing in the cloves or grow bored after pushing in about a dozen. You can start the cloves for them and do the activity over several days.
Pomanders may also be made with citrus fruits.
Educational Experience:
Science: Why do spices preserve the apple?
History/Social Studies: From where do these spices originate? Older kids can explore the history of the spice trade.
Home Arts: Where should we display the pomander to best enjoy its scent?
Mathematics (older kids): Calculate the surface area of the apple and estimate the number of cloves used.
Extend Your Learning (more posts to come):
Community: Visit your local apple orchard and go apple picking.
Science: Find out about the life cycle of the apple tree.
Literature: Read about Johnny Appleseed or story books about apples.
Arts and Crafts: Make apple prints or apple head dolls.
Home Arts/Cooking: Bake apple pies or apple muffins, make apple sauce or apple butter, drink apple cider.

Filed under: 5-6 (Kindergarten), 5-6 (Kindergarten), 5-6 (Kindergartners), 6-8 (Early Elementary), 6-8 (Early Elementary), Fall, Home Arts, Science, Smell, Touch · Tags: Apples