Naturally Educational » 3-5 (Preschool), 3-5 (Preschool), 5-6 (Kindergarten), 5-6 (Kindergarten), Mathematics, Science, Spring, Weather, Winter » In Like a Lion, Out Like a Lamb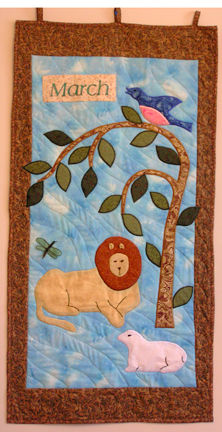 As we enter the end of winter and the beginning of spring, it is a great time to talk with young children about the weather.
Last year, we used a calendar "March comes in like a lion and goes out like a lamb" project to explore the concept of the changing weather.
March Lion and Lamb Calendar Directions
Print a blank March calendar.
Print/photocopy Lion and Lamb clip art and cut so each animal is on its own square. We got ours from The Big Book of Monthly Ideas : Preschool-Kindergarten : The Best of the Mailbox Monthly Idea Books (activity is modified from that book). This is a perfect opportunity to practice scissor skills!
Share the saying "March comes in like a lion and goes out like a lamb."
Ask your child to describe lions (fierce, strong, roar) and lambs (gentle, friendly, baa) and what type of weather each might represent.
Each day: check the thermometer, select the right animal, and paste it on the calendar.
At the end of March, count up the number of lamb days and lion days or keep a running tally. For older kids, you could create a line graph.
Educational Experience:
Science: Introduce the idea of the changing seasons and weather.  With children who are ready, discuss what causes different weather phenomena.
Mathematics: Count or graph the lamb and lion days.
Fine Motor Skills: Practice cutting straight lines with the scissor.
Language Arts: Use adjectives to describe lions and lambs and the weather. Discuss different ways to describe rain (drizzle, rain drops, downpour), snow (blizzard, flurry), etc.
Extensions
Books
Photo credit: NormaNack

Filed under: 3-5 (Preschool), 3-5 (Preschool), 5-6 (Kindergarten), 5-6 (Kindergarten), Mathematics, Science, Spring, Weather, Winter · Tags: Calendar, Lion and Lamb Craft, March