Naturally Educational » Teachable Moments Tuesday » Announcing Teachable Moments Tuesdays!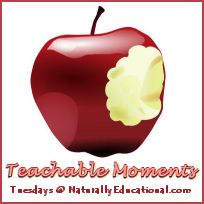 I've been reading a lot of great posts on educational blogs–written by teachers, crafters, artists, homeschoolers, and other educators.  I was thinking of writing a round-up and then I realized that a carnival would be the *
perfect
* way to for us to share our posts and those we've enjoyed on other blogs.
Every Tuesday I will put up a "linky" (a form where you add your post title and blog name and the URL of your post). Come on over and add your posts on pedagogical theory, ideas in education, learning activities, educational crafts, recaps of a recent teaching experience, new innovations in the classroom, or anything directly related to education.
For the first carnival, link any on-topic post of yours you really love–from any date.  Going forward, we'll try for more recent posts.
I need your help!  Please spread the word (if you choose to link, please link to the category), please come back on next Tuesday and add your link, and please visit and comment on the posts linked up here.
Thank you!  Hope to see you on Tuesday!

Filed under: Teachable Moments Tuesday