Naturally Educational » 3-5 (Preschool), 5-6 (Kindergarten), All Ages, Ecology, Featured, Summer » Ewww…Oooo! Insects and Other Bugs
We went for a program at a local nature center and it was a great reminder that a lot of our negative reaction to insects and other bugs is a learned response. Of course, that doesn't mean I don't recoil when I see our friend, Rosie…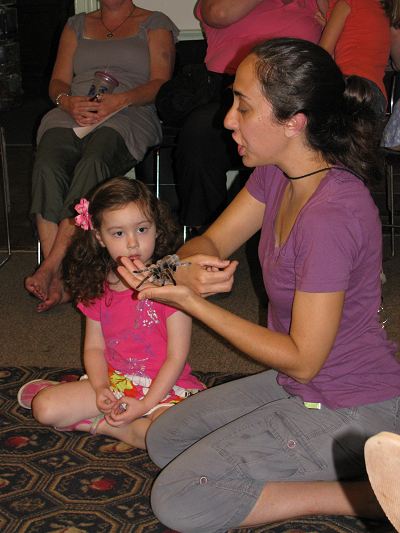 The educator at the nature center urged kids to exclaim "Oooo!" instead of "Ewww!" and I think that she has the right idea to encourage the children's sense of wonder instead of forcing adult ideas about propriety on the kids. Of course, along with that sense of wonder they need a healthy dose of respect for not only the fragility of the ecosystem but also the potential dangers of nature–which is why the kids got to handle the Madagascar hissing cockroaches and Vietnamese walking stick bugs but not Rosie the Tarantula.
And don't forget–there are some bugs that even adults think are pretty neat–ladybugs, fireflies, dragonflies, and butterflies!
The kids also made a very simple bug catcher craft at the Nature Center.
MAKE YOUR OWN BUG CATCHER CRAFT
Two Clear Plastic Cups
Wire Mesh (for patching up window screens)
Rubber Band
Stickers and Permanent Markers (for decorating your bug catcher)
Instructions
Cut off the bottom of one cup.
Wrap the mesh around to cover the bottom of that cup and secure with a rubber band.
Use the stickers and markers to decorate the other cup around the rim (don't go much lower than an inch below the rim).
Catch bugs in your cup and then place the cup with the mesh inside to trap the bugs in for observation.
If you want to be extra fancy, your child can make a Bug House out of an oatmeal canister (Your Wild Child) or you or an older sibling could make this Bug Catcher out of plastic canvas (The Mama Dramalogues via The Crafty Crow).
Enjoy your bug hunting and remember, this is a catch and release activity, only!

Filed under: 3-5 (Preschool), 5-6 (Kindergarten), All Ages, Ecology, Featured, Summer · Tags: Bug Catcher, Bugs, Insects