Naturally Educational » Educational Blogs » Education Blogs Custom Search Engine
Because I love you all–the education bloggers, the parents, the homeschoolers, the teachers, the crafters, and, most of all, the kids, I wanted to create something helpful for the community.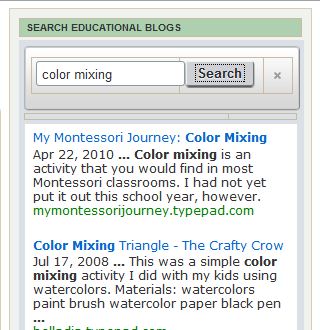 So, I put together a Google Custom Search Engine with some of my favorite educational bloggers. You can easily use the search engine. It is right on the sidebar of my site (under "Search Educational Blogs").
This was not an entirely selfless exercise.  When I create a post about an activity I've designed or enjoyed, I like to link-up to other bloggers who have similar or complimentary projects and posts.  If I write about an educational issue for another site, I like to quote from my fellow bloggers.  So, this is a more efficient and targeted way of searching for me–I hope you will find it helpful as well.
If you write regularly about education (any level, any topic), children's crafts, and/or parenting from a developmental perspective, please feel free to e-mail me or leave me a comment and put your URL in the website field so I can add it.
Here are the blogs I have included so far:
The Activity Mom
Chasing Cheerios
Childhood 101
Cool Cat Teacher Blog
Crafty Crow
CraftyMama of 4
Crunchy Domestic Goddess
Freely Educate
Fugal Family Fun Blog
Let the Children Play

LetterSoup
Little Elephants
LollyChops
Mama Smiles
A Mommy's Adventures
My Montessori Journey
Naturally Educational
No Time Flashcards
The Parenting Passageway
PhD in Parenting
Quirky Momma
Scribbit
Study Skills Mentor
Switching Classrooms
Teach Mama
Teach Preschool
Teaching Tiny Tots
That Artist Woman
Tired, Need Sleep
The Wonder Years

Filed under: Educational Blogs