Naturally Educational » Featured, Volunteering » Would You #BagItForward This Year?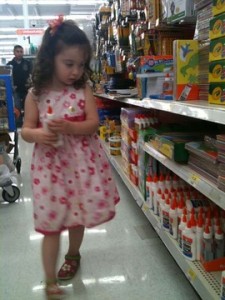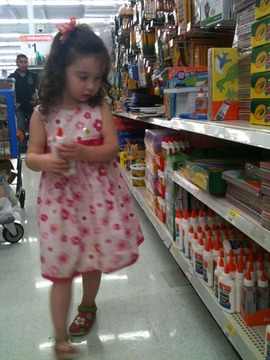 Imagine showing up to school with no supplies because your family cannot afford them.  As an educator who has worked in a variety of districts, I have seen how this can affect students.  The more perceptive teachers sometimes quietly supply the students with what they need.  Many students, however, suffer the embarrassment of being labeled "unprepared" or "scatterbrained" or "lazy".  And
teacher-funded classrooms are not the solution
–the most gifted teachers should not have to sacrifice more of their salary out of love for their pupils.
As an Elmer's paid Bag It Forward ambassador (along with Naomi Shapiro – Superdumb Supervillain, Kathleen Walck – My Home Sweet Home Online, and Beth Davis – The Plus Size Mommy), I was given $100 via Collective Bias to shop for two bags of school supplies — for my daughter and for a family in need.
My family and I decided to amplify our efforts by donating the entire amount and recruiting local friends to prepare at least 10 backpacks for the National Guard enlisted soldiers in my husband's unit.
If you have any extra funds this year–or you buy supplies in bulk and find you have a surplus, please consider donating to a classroom or to a local family in need. Just ask at your local school, Head Start location, military installation or National Guard unit, or house of worship–I am sure they will find a need that your generosity will fulfill.
I will be following up on one of my other sites, Army Wives Lives', once we assemble the bags and make the donation.  I will also have more information here about how you can also "Bag It Forward" for back-to-school.
Education for the Military Child is an issue close to my heart.  Our smallest heroes often suffer the most from military moves and deployments.   Despite legislation, training obligations and frequent deployments can also harm the careers of our civilian warriors in the National Guard and Reserves and their spouses.  In the active duty world, frequent moves can make it difficult for spouses to maintain their careers.
Anything you can do to support a military family emotionally or financially is a patriotic act.  These brave soldiers stand willing to sacrifice everything for our nation–please do not forget them and their families.
Disclosure: I was given $100 to shop for school supplies for the Elmer's #BagItForward project. I am also serving as a paid Elmer's ambassador and contributing to the BagItForward.org site. All words and opinions expressed in this post are my own.

Filed under: Featured, Volunteering · Tags: #BagItForward, Bag It Forward, Bloganthropy, Elmer's