Naturally Educational » 0-3 (Babies and Toddlers), 3-5 (Preschool), 3-5 (Preschool), 5-6 (Kindergarten), All Ages, Bodily-kinesthetic, Featured, Home Arts, Taste » Pancakes from Scratch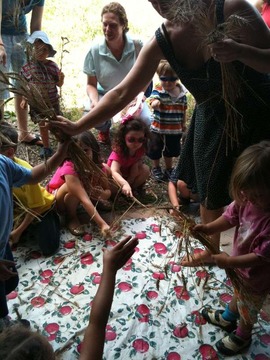 At another Mommy & Me at Garden of Eve, Eve led us in picking wheat, threshing the wheat to separate the grain from the chaff, grinding the wheat (in a blender..though my kids have stone-ground grains at some local colonial-themed events), stirring in the eggs, sugar, baking powder, and milk, and frying up the pancakes.
Unless you have a field of wheat growing in your backyard, you may need to take a few shortcuts–but making a batch of pancakes is a great cooking with kids activity that we do most weekends with our children.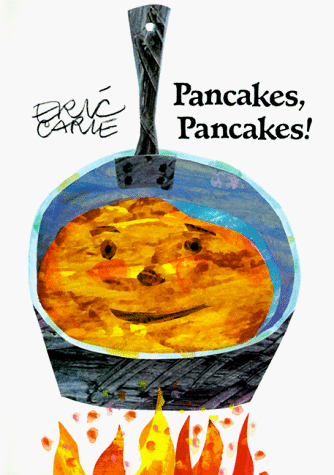 Pancakes, Pancakes! A great book for this fun and tasty activity is Pancakes, Pancakes!, by Eric Carle. A boy wants pancakes for breakfast and his mother sends him on errands to get flour from the mill, select an egg from the hens, milk the cow, churn the butter, and gather firewood for the stove.  The young man learns everything that goes into making his favorite breakfast and enjoys the delicious pancakes all the more.
Making Pancakes with Your Kids
Your children will also discover that food you make yourself just tastes better.  My daughter has her own whisk and loves stirring the batter with her Daddy or her Papa.
You can use a simple pancake recipe to make them from scratch or try these banana-cormeal pancakes at Crunchy Domestic Goddess.
Even using a just add water pancake mix provides opportunities for pouring, measuring, and stirring.
Go maple sugaring for added fun and a scrumptious treat!
Make sure to observe kids in the kitchen safety rules for a fun and memorable experience!  We have a Guidecraft Kitchen Helper that allows our kids to safely measure the ingredients into the bowl, stir the batter, and even pour batter onto the griddle and decorate the pancakes with chocolate chips or fresh fruit slices.
Educational Opportunities
Math: measuring the ingredients
Motor skills: pouring and stirring
Science: What is the importance of each ingredient? Why does the batter transform into solid pancakes when fried?
History and Culture: What role did this simple treat play in our culinary history? Why were pancakes important on the frontier? What types of pancakes are popular in other cultures (crepes, dosa, blintzes)? Wikipedia has a good starting place for pancake research.
Ecology: What is the origin of the ingredients that go into the pancakes? Can these all be found locally or do some come from other regions or nations?
Literature: Read Pancakes, Pancakes!, by Eric Carle. Make up a similar story about another favorite dish.

Filed under: 0-3 (Babies and Toddlers), 3-5 (Preschool), 3-5 (Preschool), 5-6 (Kindergarten), All Ages, Bodily-kinesthetic, Featured, Home Arts, Taste · Tags: Agriculture, Breakfast, Cooking, Cooking with Kids, Flapjacks, Pancakes, Wheat