Naturally Educational » 3-5 (Preschool), 5-6 (Kindergartners), 6-8 (Early Elementary), Featured, History and Culture, Home Arts » Books About the Dreamcatcher Legend
My daughter was concerned about bad dreams so we made a children's craft version of a dreamcatcher together.
I shared with her the Ojibway legends of the dreamcatcher but we did not have any books about dreamcatchers.  Fortunately, my local library came through and I can recommend these two stories to go with the craft and any lessons about Ojibway culture.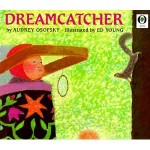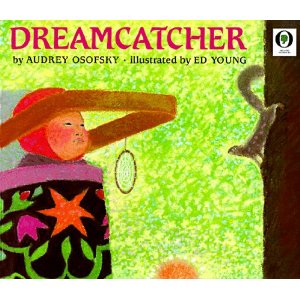 Dreamcatcher: This tale of an older sister weaving a dreamcatcher for her baby sibling has a dream-like quality. Throughout the day the baby is comforted by the sounds and rhythms of family and friends, working, playing and going about their days. At night, the dreamcatcher catches bad dreams and allows good ones to pass. Although this book is appropriate for ages 4-8, the description of the nightmares barred entry to the baby's dreams is bit frightening and oddly specific–what one child fears may not be what another one does. The nightmares could have been described in more metaphorical terms like the good dreams. Despite this concern, the story is a beautiful window in a baby's experience of a traditional way of life.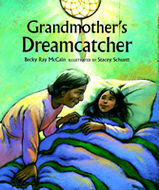 Grandmother's Dreamcatcher: When a young Chippewa girl stays with her grandmother as her parents look for a new home, her worries manifest themselves in bad dreams. Grandmother knows just what she needs: a dreamcatcher. Together they make a dreamcatcher that keeps away the nightmares but I suspect the magic is in the heartwarming relationship between grandmother and granddaughter. The gently-lit illustrations comfort and reassure.

Filed under: 3-5 (Preschool), 5-6 (Kindergartners), 6-8 (Early Elementary), Featured, History and Culture, Home Arts · Tags: Dreamcatcher, Native American Culture