Naturally Educational » Volunteering » A Day Made Better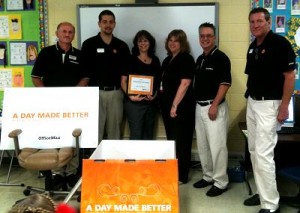 I joined Office Max today in Mrs. Lori Williams's classroom for "A Day Made Better".  For her passion, dedication, and innovation, Mrs. Williams received $1000 in school supplies as part of Office Max's partnership with Adopt-A-Classroom to erase teacher-funded classrooms.
Dr. Westrack, the principal, said, "Typically, Mrs. Williams spends thousands of dollars per year on classroom materials to benefit her students' learning experiences.  We joke about her eBay addiction to buying children's trade books."
While I was there, I saw students grouping around Mrs. Williams and Dr. Westrack to share their thoughts, hopes, and successes.  It was clear that both these educators bring a great deal of compassion and humor to their work.
One thing that is not amusing, though, is that teachers have to go into debt to support their classrooms.  There is no excuse for not properly funding our children's educations.  Find out more about how you can help on ADayMadeBetter.com and don't forget to nominate a teacher to win a $100 Gift Card from Office Max right here on NaturallyEducational.com.

Filed under: Volunteering · Tags: A Day Made Better, Office Max Moms