Naturally Educational » All Ages, Fall, Featured, Home Arts, Mathematics, Science, Taste » Apple Tasting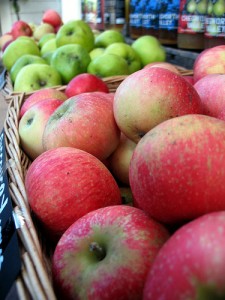 My kids love the opportunity to taste different varieties of the foods they love at local farms and markets. I was lucky enough to participate in an apple tasting with my daughter on the day I volunteered at our preschool co-operative.
Once the tasting was over, the teaching assistant, who has an amazing traveling science museum called Science on the Move, whipped up a delicious peanut-free dip for the apples!
Creating an apple tasting for your kids is simple and you can even turn it into a mathematics lesson!
Choose a few varieties of apple (depending on the children's ages you might choose to only share three varieties) and cut each into slivers, numbering the plates so you can keep track of the children's impressions.
Write each child's name on an index card and put masking tape on the back.
Make a wall chart with index cards for each variety of apple.  Write the number on one side and the variety of apple on the back.
Pass out the first tasting and allow the children a moment to think if they like the apple or not.  If you wish, they can keep track on a personal score card with stars or smiley-face stickers.
Once you have passed out all of the tastings, ask each child to come up and place his or her name next to the number of apple he or she liked best.  You will now have a bar graph of the children's preferences.
Reveal the variety of apple for each number and count how many children liked each variety best?  Which was the favorite? Which was the least favorite?
Once you are done, enjoy the remainder of the slices with this simple apple dip recipe:
Mix a 1/2 cup of sesame nut butter with 2 tablespoons of apple juice and stir.  Add more apple juice until you reach the desired consistency.  There are variations with honey and cinnamon if you want to add in other flavors.
Educational Connections:
Ecology: Take a field trip to pick fruit at a local orchard.  Older kids can research the different apple varieties and learn why there are so many different types of apples.
Mathematics: Count the number of children who like each variety. Older children can learn about bar graphs and how they help us visualize and better understand statistics.
Science: Discuss why the taste test should be "blind" to produce accurate results.
Photo by Vidya365

Filed under: All Ages, Fall, Featured, Home Arts, Mathematics, Science, Taste · Tags: Apples