Naturally Educational » 5-6 (Kindergarten), Academic Achievement, Literacy, Sight » Are Picture Books Out of the Picture?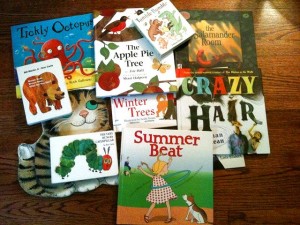 With great sadness, I read The New York Times' (hopefully premature) obituary for the picture book:
The picture book, a mainstay of children's literature with its lavish illustrations, cheerful colors and large print wrapped in a glossy jacket, has been fading. It is not going away — perennials like the Sendaks and Seusses still sell well — but publishers have scaled back the number of titles they have released in the last several years, and booksellers across the country say sales have been suffering.

The economic downturn is certainly a major factor, but many in the industry see an additional reason for the slump. Parents have begun pressing their kindergartners and first graders to leave the picture book behind and move on to more text-heavy chapter books. Publishers cite pressures from parents who are mindful of increasingly rigorous standardized testing in schools.
This reveals a misunderstanding of both the way children learn and the role of picture books in the learning process.
Forcing academics too early can stifle the imagination. Young children learn to process their world through sensory activities–including looking closely at the images in a picture book. Remove these activities and children are missing an important part of their development–the part that encourages imagination and creative problem-solving.
Young children are highly visual and interesting images build brain connections.  Illustrations engage children in the act of making meaning from visual signs.  Sparking their creativity, pictures are an invitation to children to "fill in the gaps" in the story.  Children "read" the images and "write" their own stories to go with the pictures before they are able to actually read and write fluently.
Christie Burnett at Childhood-101 explains:
Prose which invites the reader into the story through fewer words helps children learn to comprehend, to form connections between the pictures and the words about the meaning being created, comprehension which is vital to learning […] meaning making […]
Picture books also tend to include a lot of the language play that is important to early development: repetition, rhyming, onomatopoeia, and rhythm.
Picture books are still developmentally appropriate for even a very bright child. By choosing picture books with complex themes and ideas and a few higher-level vocabulary words, you can provide stimulation for an intellectually gifted child without bypassing the cognitive benefits of picture books.
Of course, chapter books have their place for children who have the interest and patience.  My daughter has enjoyed readings of Winnie the Pooh since she was three.  We give her a selection of books we believe have appropriate themes and allow her to choose.  When we read chapter books to her, it is a comforting ritual based around the sound of the parent's voice.  When she explores picture books, she more actively engages with the illustrations, sounds out some of the large-print words, anticipates the story line, and asks questions about vocabulary.
Please do not discount the value of fun picture books in creating life-long lovers of literature!  If a child picks up an appropriate book–telling him to "put it back" because it is "for babies" communicates that stories are only serious work and not for enjoyment.
To parents who eliminate picture books from their young child's library, I ask, "Would you rather have a child who reads chapter books by himself at five, or a child who grows into an adult who loves to read."
Shared at Sunday Best.  Read other education and crafting bloggers' best posts of the week at No Time for Flashcards.

Filed under: 5-6 (Kindergarten), Academic Achievement, Literacy, Sight