Naturally Educational » 3-5 (Preschool), 3-5 (Preschool), 3-5 (Preschool), 5-6 (Kindergarten), 5-6 (Kindergarten), 5-6 (Kindergartners), 6-8 (Early Elementary), 6-8 (Early Elementary), 6-8 (Early Elementary), Ecology, Fall, Featured, Science » Gone Batty!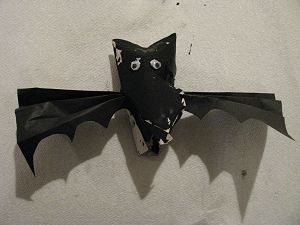 I found these toilet paper roll bats on Filth Wizardry (what a great blog name!), via The Crafty Crow.
I recommend clicking over to Filth Wizardry because she has awesome pictures of the step-by-step and also because her husband added LED lights (!) to the bats' eyes.
Materials:
Toilet paper tube
Black paint
Black construction paper
Googly eyes
Directions:
1. Fold in opposite sides of one end of the toilet paper tube to form the bat ears.
2. Cut a slit up either side (same sides where you see the "ears") of the unfolded end of the toilet paper tube.
3. Fold in the side with the slits in the opposite direction of the toilet paper tube.
4. Paint the entire tube black and let dry.
5. Scallop-cut the bottom of the black construction paper so it looks more like bat wings.
6. Accordion-fold the construction paper wings.
7. Insert the wings into the slit of the cardboard toilet paper tube.
8. Glue on googly eyes.
While you are waiting for the paint to dry, try some Bat Songs, Finger Plays, and Jokes or read these books about bats:
Stellaluna by Jannell Cannon: When a young bat is separated from her mother, she joins a nest of baby birds. In a beautifully illustrated book with lots of loving close-ups, Stellaluna tries to fit in but learns that she is happiest being herself. Along with her newfound friends, she also discovers that sometimes friends can be very different in some ways but alike in the ways that count. This book is my favorite book about bats, and my four year old loves it, but I do find it gets a little long for most children under 5. Also, to set up another point of contrast, Cannon makes Stellaluna a fruit bat who does not like the bug feast the mama bird brings back for her babies. This may be confusing for young children who are learning that most bats eat bugs.
Bats at the Beach by Brian Lies: A community of bats heads to the beach for moontans and bugmallows. The illustrations manage to be cute and naturalistic at the same time–no easy feat when your subject is bats. A few facts about bats are interwoven with the storyline but I wish there were more included. Still, this is a faster-paced, shorter, more lively read than Stellaluna, making it my pick for the under 5 crowd.
Zipping, Zapping, Zooming Bats (Let's-Read-and-Find-Out Science 2) is a good non-fiction introduction to the world of bats. Children will love the interesting facts about bats. I appreciate that the book helps dispel myths about these creatures and explains why they are essential to our ecosystem.
Educational Connections:
Science: Introduce the term "nocturnal". Identify other nocturnal animals.
Science: Bats are the only flying mammals (unless you count humans who use machines to fly). Other mammals can glide but only the bats actually fly. How do bat wings differ from bird wings and insect wings?
Science: People use the expression "blind as a bat" but bats are not really blind.  Still, sight is not the main sense they use when hunting for food. Bats use sonar, or echo-location, to fly through the dark night.  How does sonar work?  What human inventions use sonar?
Ecology: Why are bats so important to our ecosystem?  Why are bats in need of protection?
Field Trip: Find out if there is a place near you (or along your next vacation route) where you will be able to see bats on the wing.
History and Culture: What are some popular images of bats? If bats are rarely dangerous and are actually useful, why are so many people afraid of them?

Filed under: 3-5 (Preschool), 3-5 (Preschool), 3-5 (Preschool), 5-6 (Kindergarten), 5-6 (Kindergarten), 5-6 (Kindergartners), 6-8 (Early Elementary), 6-8 (Early Elementary), 6-8 (Early Elementary), Ecology, Fall, Featured, Science · Tags: Bats, Halloween