Naturally Educational » 0-3 (Babies and Toddlers), 3-5 (Preschool), 3-5 (Preschool), 3-5 (Preschool), 5-6 (Kindergarten), 5-6 (Kindergarten), 6-8 (Early Elementary), Ecology, Fall, Featured, Science » Spin a Spider Web
OK, I know that they are generally benign and quite important to our ecosystem but the eight-legged things just freak me out, okay?
Still, I got over my fear so that we could study some spiders.  I didn't even flinch earlier in the year when we visited Rosie the tarantula at our local nature center.  To her credit, neither did my daughter (who got a heck of a lot closer):
Since it is nearing Halloween, we got our creepy crawly on and made this spider in a web craft…
Materials
Paper plate
Yarn (grey or white)
1 Black pom pom ball (perhaps in honor of Tim Gunn of Project Runway I should refer to them as Wooly Balls?)
2 Black chenille stems
8 googly eyes
Scissors
Single hole punch
Tacky glue
Directions:
1. Cut the chenille stems in half.
2. Wrap the stems around the pom pom to form eight legs.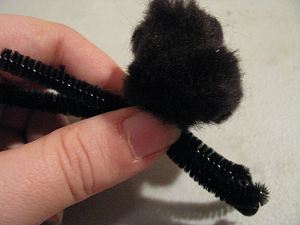 3. Glue on googly eyes–I gave the kids a choice as to how many eyes.  Most spiders have eight eyes but some have fewer.
4. While the glue is drying, cut the center out of a paper plate.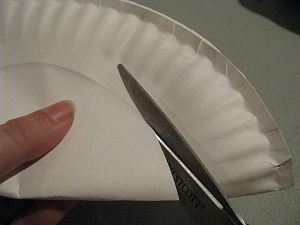 5. Punch holes around the circumference of the plate, every inch or so–this does not need to be even.
6. Thread the yarn back and forth between the holes, encouraging children to go across the diameter of the plate (rather than stitch around the circumference).  Most kids will automatically choose random holes unless they have a lot of experience with sewing cards.
7. Wrap some of the spider's legs around the threads of the web.
Of course, we sang The Itsy-Bitsy Spider and also There was an Old Lady Who Swallowed a Fly.  And we read a book about a spider:
The Very Busy Spider by Eric Carle. Eric Carle's whimsical illustrations are a delight as always. Each animal in the barnyard asks the spider to join in for the day's fun but the spider is too busy spinning her web. The toddlers love calling out the animal sounds and the repetitive structure of the story.
Educational Connections:
Science: Spiders are a great way to introduce classification.  Spiders are not insects, what are they?  How are arachnids different from insects?  How do entomologists categorize different spiders (spinning / weaving spiders versus hunting spiders)?
Science / Technology: How do spiders spin their webs? Why are engineers trying to find ways to use spider silk in human technology?
Ecology: What role do spiders play in the ecosystem?
Literature / History: Read the Greek legend of Arachne. Why did Athena turn Arachne into a spider?
Geography (for older kids): Make a map of spiders.  Where do the most species of spider live? Where do the largest spiders live? Which spiders have venom that is dangerous to humans and where do they live?
Check out more great Story + ART at stART!

Filed under: 0-3 (Babies and Toddlers), 3-5 (Preschool), 3-5 (Preschool), 3-5 (Preschool), 5-6 (Kindergarten), 5-6 (Kindergarten), 6-8 (Early Elementary), Ecology, Fall, Featured, Science · Tags: Bugs, Fine Motor Skills, Halloween, Manual Dexterity, Spiders, Tarantulas