Naturally Educational » 0-3 (Babies and Toddlers), 1-2 (Toddler), 3-5 (Preschool), 3-5 (Preschool), 5-6 (Kindergarten), 5-6 (Kindergartners), 6-8 (Early Elementary), All Ages, Featured, History and Culture » Pilgrim Bonnet and Hat
For your little pilgrims on Thanksgiving Day, a simple hat and bonnet they can make and wear during the feast: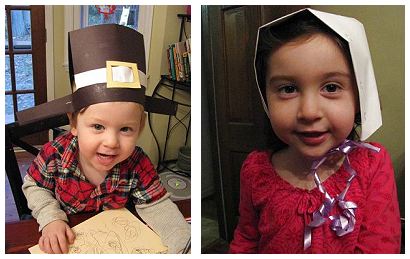 Pilgrim Hat
Materials:
black construction paper
white construction paper
yellow construction paper
glue stick
stapler
scissors
Directions:
1. Fold the black construction paper in half and cut the shape of a pilgrim hat from the black construction paper so that you have two matching shapes.
2. Draw a buckle shape on yellow construction paper and cut it out. (Note: The buckle is most likely anachronistic, having been introduced later in Europe, but we included one because it is such a recognizable feature for the kids.)
3. Cut a white strip of paper and weave through the buckle. Apply glue to the back of the strip of paper and glue to the hat.
4. Staple the outer edges of the black bands of the hat and then staple the bands closer to the head to fit.
—
Pilgrim Bonnet
Materials:
white construction paper
ribbon or yarn
stapler
scissors
Directions:
1. Cut two slits on one side of the paper, approximately 3 inches apart and 1-2 inches deep.
2. Fold in the tab and then fold both corners towards the center.  Staple in place.
3. Fold the front over the ribbon and staple.  The lavender ribbon is a bit flashy but we didn't have a white ribbon.
4. Tie the bonnet around your little pilgrim.
Tomorrow I'll post our simple Indian headdresses.
Educational Connections:
History: Why were the Pilgrims so grateful for the harvest? How was life different in colonial days? What jobs did boys and girls do? What types of toys and entertainment did they have?
Home Arts: Out of what materials did the Pilgrims make their clothing?
Field Trip: Visit a local colonial recreation event.  If that is not possible, try to visit a harvest at a nearby farm.
The Very First Thanksgiving Day, by Laura Krauss Melmed, works backwards from the first Thanksgiving to the Mayflower in rhyming verse that builds on itself. Simply told, the book gives an overarching sense of the cause and effect of history.
This First Thanksgiving Day: A Counting Story, by Rhonda Gowler Greene, shows how pilgrim and native children might have helped their parents prepare for a big feast. The focus is on the bounty of the earth.
One Little, Two Little, Three Little Pilgrims, by B. G. Hennessy, builds on the well-known song to show Pilgrim and Wampanoag children working playing and celebrating. This book is a cute read for younger children who will enjoy singing along.
Littlest Pilgrim, by Brandi Dougherty, follows a young pilgrim who wants to help like the older children but finds everyone is too busy to teach her how to do the chores. Children will relate to the frustration of being told they are "too little" to help and learn basic information about colonial lifeways.
Shared at: story + ART = stART

Filed under: 0-3 (Babies and Toddlers), 1-2 (Toddler), 3-5 (Preschool), 3-5 (Preschool), 5-6 (Kindergarten), 5-6 (Kindergartners), 6-8 (Early Elementary), All Ages, Featured, History and Culture · Tags: Colonial America, Pilgrims, Thanksgiving