Naturally Educational » 0-3 (Babies and Toddlers), 1-2 (Toddler), 1-2 (Toddlers), 3-5 (Preschool), 3-5 (Preschool), 3-5 (Preschool), 5-6 (Kindergarten), 5-6 (Kindergarten), 6-8 (Early Elementary), Featured, History and Culture, Home Arts, Taste » Edible Dreidel Dessert Craft
Shake and Make Music
).
We had a lot of fun so we decided to do it again this year.  Although we are not Jewish, most of my heritage is so this is something I want to be able to share with my kids.
Materials:
Marshmallow
Chocolate Hershey's Kiss
Pretzel stick
Nutella (or honey or Marshmallow Fluff) and knife for spreading
Small bowl of milk & food coloring (or edible paint markers)
Directions:
1. Mix a few drops of food coloring in the milk and stir. (Skip if using edible paint markers.)
2. Paint or draw on the symbols, נ (nun), ג (gimel), ה (hei), and ש (shin). (I did this for the kids but gave them a second marshmallow to paint any way they chose.)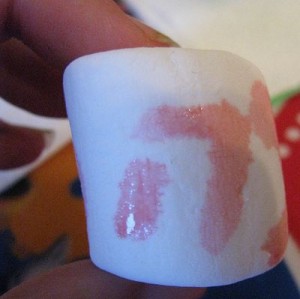 3. Push a pretzel stick into the center of the top of the marshmallow.
4. Spread your "glue" (honey, Nutella, or Marshmallow Fluff) on the bottom of the marshmallow and add your Hershey's Kiss.
5. Enjoy!
YUMMY!
Educational Connections:
History and Culture: Tell your children the story of the Maccabee victory and the miraculous oil that lasted for eight days instead of just one.
Language: The Hebrew letters on the Dreidel, Nun, Gimmel, Hey and Shin, stand for "Nes Gadol Haya Sham", which means A Great Miracle Happened There. In Israel, the fourth letter is a "peh"–"a great miracle happened here." Examine the Hebrew alphabet and discuss the ways in which it differs from the alphabet we use.  This is also a good springboard for older children to learn about other systems of writing.
Mathematics: Play the Dreidel game with your children with a real Dreidel or make your own Dreidel out of heavy paper — a good opportunity to practice counting and the concept of "half". Judaism 101 also has an electronic Dreidel game.
Books for Chanukkah
Where Is Baby's Dreidel?: A Lift-the-Flap Book, by Karen Katz – Katz's lift-the-flap books are always a hit with toddlers and babies. In this book, baby searches for the dreidel and finds other Chanukkah-related objects along the way.
It's Hanukkah! – This rhyming translation of a Hebrew children's song is illustrated by Santiago Cohen. We enjoyed the beautiful and loving family scenes as well as the foil flames on the candles. On each page, a new candle is lit, both accurately showing the tradition of the menorah as well as giving young children counting practice. The lyrics also introduce the name for the center candle (shammash), the letters on the dreidel, and even mentions the Maccabees.
Hanukkah Lights, by David Martin – This little board book describes activities, some traditional others just generically celebratory, for each of the nights of Hannukah. The book is very basic but the menorah, latkes, and Dreidel are all there, along with illustrations of happy, multicultural children. The book is good introduction for babies and young toddlers.
Shared at story + ART = stART.

Filed under: 0-3 (Babies and Toddlers), 1-2 (Toddler), 1-2 (Toddlers), 3-5 (Preschool), 3-5 (Preschool), 3-5 (Preschool), 5-6 (Kindergarten), 5-6 (Kindergarten), 6-8 (Early Elementary), Featured, History and Culture, Home Arts, Taste · Tags: Chanukkah, Cooking with Kids, Dreidel, Hanukkah, Judaism