Naturally Educational » Featured, Interpersonal, Volunteering » Holiday Volunteering with Young Children
We try to do several volunteer service activities throughout the year. Volunteering was a big part of my life before children. Because my young children are usually with me, I've had to change things up a little bit.
Feeding People Who Are Homeless
In November, we joined Volunteer 4 Long Island in preparing meals for people who are homeless and under-housed. The adults prepare the food and distribute it at spots throughout the area where they know they are likely to find people who are homeless. The teenagers and older children assemble hygiene kits with sample sizes and packages of hats, gloves, and scarves. And the littlest volunteers decorate cards.
It amazes and saddens me that in this time of plenty–and even given current economic conditions, it really is by any historical standard–that there are people who lack basic sustenance and shelter.
Caroling and Performing for Elderly People
This December, a friend organized a trip to the local Atria Assisted Living facility. Our children sang carols, distributed cookies, and chatted with the residents. When my four year-old daughter saw a baby grand piano in the middle of the room, she asked if she could play for everyone. She gave an impromptu concert of Mary Had a Little Lamb and received a big round of applause from the 50 or more people gathered to listen. Next time I will remember to bring her music so she has more of a repertoire!  I wish I had grabbed a picture of her playing but I was just holding my breath that she wouldn't suddenly panic.  I am so proud that she used her talents to bring a little joy to others.
Donating Toys for Children Who Are Ill
My daughter's preschool collected teddy bears to give to children at the pediatric wing at a local hospital. In addition to donating four new bears, we also contributed 64 ZhuZhu Pets and Kung Zhu hamsters, courtesy of Cepia, LLC, and Zhu Zhu Pets, as part of the Random Acts of Zhu.  I'll post more about this on Mamanista.com later but also wanted to mention it here.  I am grateful that Cepia, LLC, gave me this opportunity to brighten the day of these children.  I know that the hospitals receive lots of toys for the youngest children but fewer for the older kids and teens.
When my daughter was three months' old, she had open heart surgery very close to Thanksgiving.  We are very lucky and blessed.  Although we will have to monitor her heart condition, she has not spent most of her young life in and out of the hospital.  There are families who are not so lucky and I appreciate the programs that provide some support for these families.
Last year, again with the help of corporate sponsors, I also made a large toy donation to a local hospital and got a chance to tour their facilities.  They told me that they rely heavily on private donations both for state of the art equipment that allows them to provide medical services and also for things like diapers, toiletries for exhausted parents, art supplies for the therapy room, books for the play room, and toys for children during the holidays.
Filling Christmas Stockings for Those in Need
Our last official charitable activity this year will be donating a dozen filled Christmas stockings, assorted new toys, and the remaining 40 ZhuZhu Pets and/or Kung Zhu hamsters from Random Acts of Zhu to Volunteer 4 Long Island's distribution to the children of families who use the local food pantry.
We hosted a play date.  I provided the warm cider and Christmas stockings and everyone brought 12 stocking stuffers to add to the stockings.
My daughter, who is four, asked me why we are donating presents if Santa's elves can just make them.  I explained that some children have to ask for warm coats or school supplies from Santa and that I think they should get those and a toy, too.  I told her that Santa has a lot of things to do and so he hopes that people like us will help identify and provide some extra Christmas cheer for those in need.
She smiled and continued to help fill up stockings.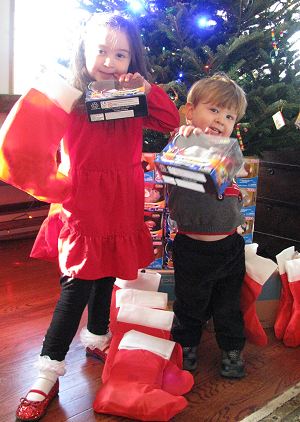 Filed under: Featured, Interpersonal, Volunteering · Tags: Charity, Christmas, Thanksgiving, Volunteering