Naturally Educational » 1-2 (Toddler), 1-2 (Toddlers), 3-5 (Preschool), 3-5 (Preschool), 3-5 (Preschool), 5-6 (Kindergarten), 5-6 (Kindergarten), 5-6 (Kindergartners), 6-8 (Early Elementary), Featured, History and Culture, Winter » New Year's Traditions: Gold Bracelet Craft from Chile
We went to the library looking for New Year's picture books for kids and found this is definitely an unfilled niche.  We did discover, however, Happy New Year Everywhere!, by Arlene Erlbach. The book details New Year's traditions throughout the world, including New Years celebrated at other times of the year, like Chinese New Year and Rosh Hashana. Each tradition has an accompanying craft or recipe. The book seems to be out of print, so you'll have to check around for the best used price or, better yet, borrow a copy from your library.
From the book, we found out that in Chile, people traditionally wear gold jewelry to attract prosperity for the new year. So, we made these fun "gold bracelets" from dried pasta.
Materials
dried pasta (we only had ziti rigatoni but I would recommend a variety of shapes)
gold paint
glitter glue, glitter, craft "jewels", beads (this is all optional, whatever fancy extras you have on hand)
yarn or elastic or a pipe cleaner
Directions
1. Paint the pasta with the gold paint.
2. Add glitter or glitter glue or craft jewels and allow to dry.
3. String your pasta and any beads you wish to include.
4. Tie off and wear your bracelet on New Year's Eve and New Year's Day to attract wealth and luck.
A Picture Book About Multicultural New Year's Traditions: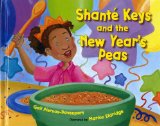 Shanté Keys and the New Year's Peas, by Gail Piernas-Davenport: When grandma forgets the traditional black-eyed peas, Shante visits her neighbors in search of the New Year's good luck dish. Along the way, she finds out about the varied ethnic traditions for the day. This is a sweet and celebratory story.
Educational Connections:
History and Culture: Discover the different New Year's traditions of your friends, neighbors, and family. What do many of these traditions have in common?  Why is the New Year a time when many people wish for good luck and wealth and make promises or resolutions to live better.
Mathematics: Look at a calendar.  How many days are in a year?  Why? How many months are there in a Western calendar?  Some cultures use a lunar calendar.  How does that differ from our calendar?  Why does New Year's in some other cultures and religions fall on different days on the Western calendar?
Shared at: story + ART = stART

Filed under: 1-2 (Toddler), 1-2 (Toddlers), 3-5 (Preschool), 3-5 (Preschool), 3-5 (Preschool), 5-6 (Kindergarten), 5-6 (Kindergarten), 5-6 (Kindergartners), 6-8 (Early Elementary), Featured, History and Culture, Winter · Tags: New Year's