Naturally Educational » 1-2 (Toddler), 1-2 (Toddlers), 3-5 (Preschool), 3-5 (Preschool), 5-6 (Kindergarten), 5-6 (Kindergarten), 6-8 (Early Elementary), 6-8 (Early Elementary), 9-11 (Elementary), All Ages, Featured, Home Arts, Winter » Simple Ornaments: Have a Ball!
My kids make homemade gifts for family, friends, and teachers. Two years ago, my daughter (age two and a half at the time) made these very simple ornaments that even a toddler can make.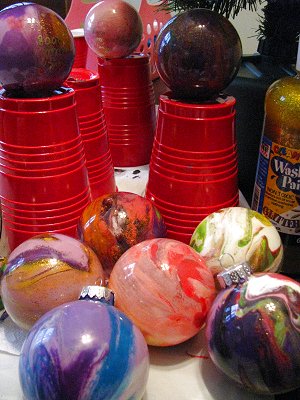 Materials
Glass globe ornaments*
Paint
* We tried with plastic this year but the paint really did not stick.  I am going to experiment with mixing glue and paint and seeing if that works better. If you have tips, please let me know.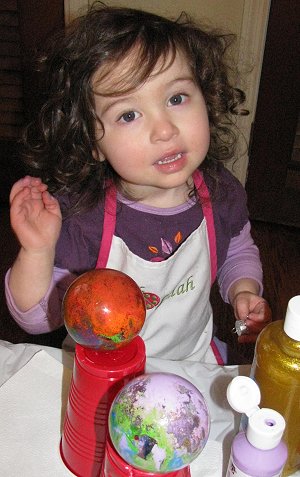 Directions
1. Take the top off of the glass ornament.
2. Squeeze in some paint. (You'll get more attractive results if the kids select two or three colors but I usually don't stop them if they want the whole rainbow.  Metallic paints work nicely for this.)
3. Swirl the ornament like a wine glass.
4. Dry the ornament upside down (we used upside down plastic cups with a hole cut in the bottom).
5. We also added the child's name and date using a paint pen.
Educational Connections: We really do this more to celebrate the joy of giving but there is something to be learned about color mixing!

Filed under: 1-2 (Toddler), 1-2 (Toddlers), 3-5 (Preschool), 3-5 (Preschool), 5-6 (Kindergarten), 5-6 (Kindergarten), 6-8 (Early Elementary), 6-8 (Early Elementary), 9-11 (Elementary), All Ages, Featured, Home Arts, Winter · Tags: Christmas, Gifts, Ornaments