Naturally Educational » 3-5 (Preschool), 5-6 (Kindergarten), 6-8 (Early Elementary), Spring, Weather » In Like a Lion, Out Like a Lamb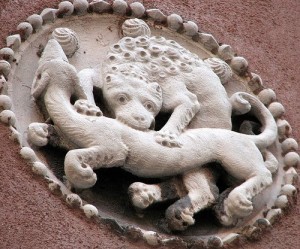 We've been so busy enjoying (sledding) and not enjoying (shoveling) the snow that March has snuck up on us!
Lions and Lambs
We'll be discussing the saying: "March comes in like a lion and goes out like a lamb."
I'll ask the kids what they know about lions (fierce, strong, roar) and lambs (gentle, friendly, baa) and ask what type of weather each might represent.
March Weather Calendar – Lion and Lamb Days
Each day we will check the weather and we will add a clipart lamb or lion to each day.
At the end of March, we will tally our lion and lamb days and see whether the saying was true about the weather this March.
March Weather Story
We will be reading, In Like a Lion, Out Like a Lamb, by Marion Dane Bauer.
March Weather Craft
We'll be making lion and lamb masks and possibly paper bag puppets.
March Weather Poem
Our March poem will focus on the month's variable weather:
March Wind
March wind is a jolly fellow;
He likes to joke and play.
He turns umbrellas inside out
And blows men's hats away.
He calls the pussy willows
And whispers in each ear,
"Wake up you lazy little seeds,
Don't you know that spring is here.
Wind and Rainbows
Once we introduce March, we'll be studying rainbows and wind.  I am looking forward to bidding winter farewell and welcoming spring!

Filed under: 3-5 (Preschool), 5-6 (Kindergarten), 6-8 (Early Elementary), Spring, Weather · Tags: March, Spring, Weather