Naturally Educational » Giveaways, Literacy, Volunteering » Reach Out and Read at The UPS Store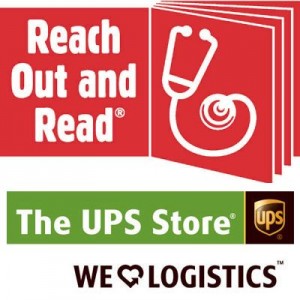 At the foundation of academic success, lifelong learning, modern communication, and participation in democracy…is literacy.
Reading is a key that opens up entire treasure trove of new experiences, knowledge, and power.
Which is why I am always excited to support and promote proven literacy projects, like Reach Out and Read.  Last year a few moms and I ran a book drive for our local program.  I am thrilled to partner with my local The UPS Store through the Lovin' Logistics campaign to make this year's book drive an even bigger success.
At my local Reach Out and Read location, the Elsie Owens North Brookhaven Health Center, children are getting more than just a medical check-up, they are receiving a literacy booster.  With the simple gift of a book and some read-aloud tips for parents from the pediatric staff, children get a head start on the reading skills they will need to succeed in school and beyond.
As part of the evidence-based, non-profit organization, Reach Out and Read, the health center encourages literacy for its young Brookhaven patients enrolled in Medicaid.
When I asked Joel DeGregorio, owner of the Mt. Sinai The UPS Store franchise, if he would participate in a book drive to benefit Reach Out and Read, he agreed immediately.  He also believes in the power of literacy and hosts an annual fundraiser for the Toys for Tots Literacy Program.
As part of our book drive, community members can bring three or more new or gently used books to The UPS Store in Mt. Sinai 5507 Nesconset Highway (Route 347) and they will receive a coupon for 20% off a one-time purchase, excluding postage stamps.
When local business leaders support education programs, they get a great return on their investment in our community's future.  According to Reach Out and Read, economist James J. Heckman found that economic returns on dollars invested in early education are as high as 15-17% per year.
Children who participate in the Reach Out and Read program show measurable gains.  These literacy skills are the key to opening up entire worlds of learning. The support of the community ensures these gains are retained.  When children know we believe in them, they have confidence in themselves.
To celebrate what we hope will be the successful end of the book drive, I will be leading a rainbow story and craft event at the store on March 12.  If you are in the Suffolk County, Long Island, New York area, call The UPS Store (631-331-0560) to reserve a spot—space is limited!
For those of you who are not near enough to attend, you can be sure I will be posting the craft here on Naturally Educational!
—GIVEAWAY!—
To help spread the word about Reach Out and Read, I am including my final giveaway as an ambassador for The UPS Store in this post.
The UPS Store would like my readers to have the opportunity to experience the convenience for themselves. They have given me $250 worth of gift cards to give away!
Prizes:
One (1) Grand Prize Winner will receive $75 worth of gift cards to The UPS Store
Two (2) First Prize Winners will receive $50 worth of gift cards to The UPS Store
Three (3) Second Prize Winners will receive $25 worth of gift cards to The UPS Store
To Enter:
You can enter 1-4 times by completing any or all of the following. Please leave a separate comment for each entry. Please note, there is no need to leave your e-mail address in the body of the comment.  Just leave it in the e-mail field so no one else but me will see it!
Leave a comment on this post letting me know the title of your all-time favorite book for children, 0-5.
"Like" Naturally Educational and The UPS Store on facebook and leave a separate comment (just one for "liking" both) to let me know.
"Like" Reach Out and Read on facebook and leave a separate comment to let me know.
On Twitter, tweet out the following message from a public account (if I can't see it, I can't verify): "My favorite kids' book is [FILL-IN YOUR CHOICE]. Enter 2 win The UPS Store GCs @candaceapril http://ow.ly/3ZCuf #LovinLogistics." Make sure to leave a separate comment. Put the URL of your status update as your website in your comment.
Winners will be chosen at random from valid entries. Contest ends at 11:59 PM EST February 28, 2011.
Disclosure: I am writing this post in part as a paid The UPS Store Brand Ambassador and in conjunction with the Lovin' Logistics campaign at Collective Bias. All opinions stated here are my own and are not affected by compensation.

Filed under: Giveaways, Literacy, Volunteering · Tags: Book Drive, Charity