Naturally Educational » All Ages, Featured, Home Arts, Science, Taste » I Can Eat a Rainbow!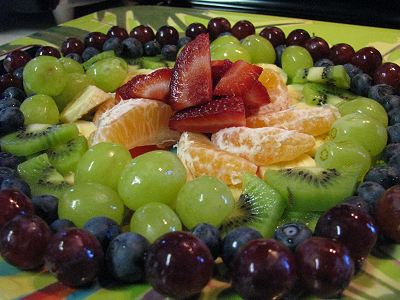 I'm no nutritionist but I know that eating a rainbow of fruits and vegetables is a great way to get a variety of healthy vitamins!
While we are studying rainbows, we are also checking out nature's spectrum of colors. And vivid colors in the flesh of fruits and vegetables signals a high level of nutrients.
Getting children to eat healthy is wonderful but teaching them how to make healthy choices is even better. "Eat a Rainbow" is a useful mnemonic for young children who are drawn to bright colors.
Here's our rainbow of fruit: Red strawberries, orange clementines, yellow (technically "white") bananas, green kiwi and grapes, blue blueberries, and purple "red" grapes.
And here are some resources to help you "Eat a Rainbow":

Filed under: All Ages, Featured, Home Arts, Science, Taste · Tags: Food, Fruit, Health, Kids in the Kitchen, Rainbows