Naturally Educational » Featured, Literacy, Spring, Weather » April Verse
After a few snows and bitter days in March, we are excited that spring is finally on the way! Our crocuses and daffodils have bloomed and the days are getting warmer.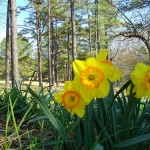 Here is our daily verse / poem for April, which we found on Can Teach:

April
April is a rainbow month,
Of sudden springtime showers.
Bright with golden daffodils
and lots of pretty flowers.
At the end of March, we went outside to play a little in the dirt and mud and write words using natural elements.
Our plans for April include:
Planting bean seeds in narrow containers in hopes of observing their germination.
Growing flowers for outdoor planting in May. (We're hoping to plant a butterfly garden as soon as the risk of frost has passed.)
Studying the water cycle and rain.
Studying the wind.
Discussing Earth Day.
Celebrating Easter.
I'm excited to share our spring adventures with you!
Photo by: Robert Nunnally

Filed under: Featured, Literacy, Spring, Weather · Tags: April, Poetry