Naturally Educational » 3-5 (Preschool), 3-5 (Preschool), 5-6 (Kindergarten), 5-6 (Kindergarten), 6-8 (Early Elementary), 6-8 (Early Elementary), 9-11 (Elementary), Bodily-kinesthetic, Featured, History and Culture, Music, Musical, Spring, Summer, Visual-Spacial, Weather » Rain Stick
Not that we need more rain…
Since we are studying rain and the water cycle in April, we made rain sticks. This is a nice way to incorporate some culture and music and movement into our studies.  And it is also a simple and fun craft that is always a hit with the kids.
Materials
long cardboard (paper towel) tube
rice
soft, flexible plastic (like a sandwich bag or any leftover shrink wrap)
construction paper
markers, stickers, jewels, etc. for decoration
Directions
1. Pour some rice into a bowl and have a little fun playing with it!
2. Tape your plastic around one end of the cardboard tube.
3. Use a funnel to pour rice into the tube.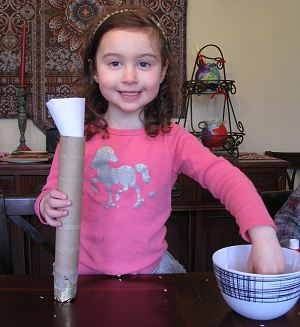 4. Close up the other end of the stick with plastic.
5. Wrap the tube in construction paper and glue the paper to the tube.
6. Decorate!
7. Shake, shake, shake and bring on the rain!
Educational Connections:
Story Time: I found a lovely retelling of a rain stick story from writer Sara Hickman.  You can tell this story while making the craft.
History and Culture: Find out about native rain gods. How do different ancient cultures describe and explain rain?
Ecology: Why is rain so important to people? What happens if it doesn't rain enough? What happens if it rains too much?
Music: Slowly tilt the stick back and forth. What sound does it make? Shake the stick slowly, now fast. How does the sound change? Try shaking the stick to music.
Shared at: stART

Filed under: 3-5 (Preschool), 3-5 (Preschool), 5-6 (Kindergarten), 5-6 (Kindergarten), 6-8 (Early Elementary), 6-8 (Early Elementary), 9-11 (Elementary), Bodily-kinesthetic, Featured, History and Culture, Music, Musical, Spring, Summer, Visual-Spacial, Weather · Tags: Native American Culture, Rain, Weather