Naturally Educational » 5-6 (Kindergarten), 6-8 (Early Elementary), Featured, Home Arts, Smell, Summer » No-Sew Lavender Sachet (Guest Post)
While I am on a brief "maternity leave", I am welcoming some of my favorite activity, craft, and education bloggers to share a post on Naturally Educational. Today, Maggie of Red Ted Art shares how to make "no-sew" lavender bags.
Personally, lavender is one of my favorites for both its scent and colors. Every summer we enjoy the lavender labyrinth at Garden of Eve and bring fresh lavender into our home!
Hello! I am Maggy and I am visiting from over at Red Ted Art, where I regularly craft with my 3yrs old son (Red Ted) and my 1 yrs old daughter (Pip Sqeauk). We love to get crafty and share our ideas and encourage others to have a go.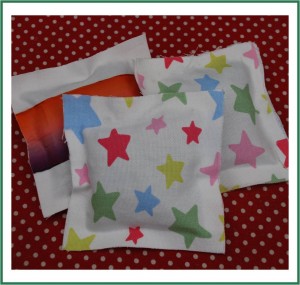 Lavender sachets make lovely gifts and are a perfect way to use dried lavender from a garden or vase.
No time or energy to sew a lavender bag or little lavender sachet or pillow? Look no further: No Sew Lavender Bags are here!
Materials:
pretty fabric scraps
BondaWeb (hemming tape)
dried lavender (cut fresh lavender, place in a paper bag and hang to dry)
a hot iron & two tea towels (to protect the iron and ironing board)
Directions: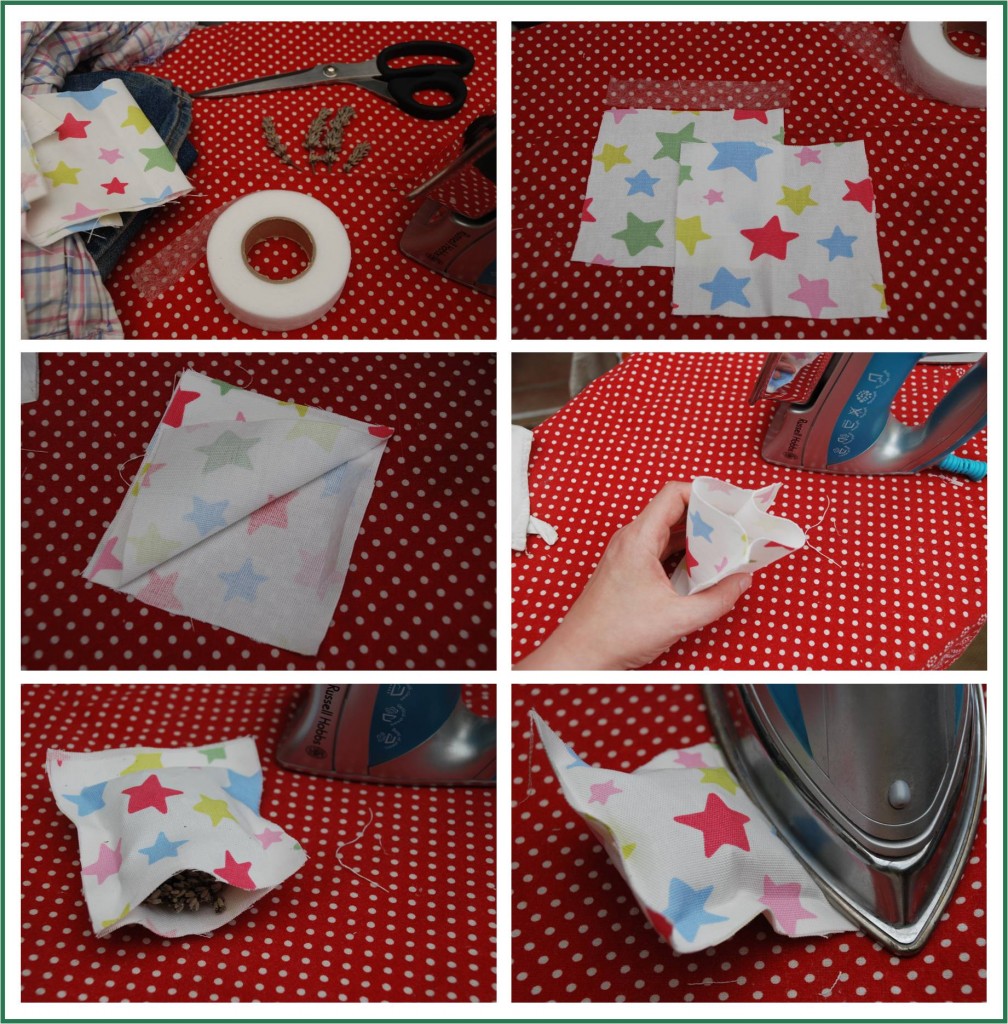 1. Cute out two squares, put back sides together – i.e. you will not be turning these inside out. Pretty side out pleased!
2. Place strips of hemming tape along two sides and iron hot until it is properly sealed. Turn round and iron reverse, just to make sure it is really bonded.
3. For hanging: add a ribbon "loop" to one of the remaining edges before sealing with the hemming tape.  You should now have three of the four edges bonded together.
4. Fill with lavender.
5. Add fourth strip of hemming tape and iron hot. If necessary, let cool and repeat.
6. Trim edges to neaten.
Variations:
For him: Used old shirts and jeans
For her: Iron-on a piece of ribbon (using hemming tape again)
I hope you enjoyed this craft and that inspires you to have a go. And do stop by at Red Ted Art and check out the rest of our tutorials or our Kids Get Crafty section – you will always find a book review and a fun craft!

Filed under: 5-6 (Kindergarten), 6-8 (Early Elementary), Featured, Home Arts, Smell, Summer · Tags: Father's Day, Flowers, Gifts, Mother's Day