Naturally Educational » Subject Matter » If you enjoy this site…please vote!
Dear community and readers,
I hope you have been enjoying Naturally Educational. I know I enjoy writing it and connecting with you!
I've been nominated as one of the Top 25 Homeschooling Blogs.  There are just two days left to vote–you can vote both days until May 11, 2011 at 5pm PST.
All you need to do is to click this link and then click on the orange "thumbs-up". You can also vote for multiple sites if some of your other favorite blogs are nominated: http://www.circleofmoms.com/blogger/naturally-educational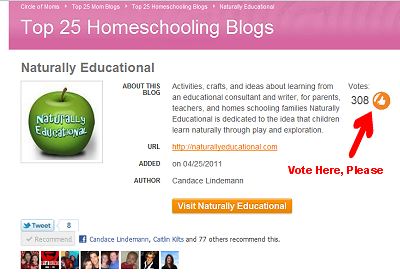 Making this site a resource for parents and educators is a labor of love for me. I accept very few forms of advertising on this site as educational consulting is my career. To maintain this as a space for learning, I am very careful about any partnerships.  Your thumbs up means a lot to me!
I hope you will take a moment to vote if you have found Naturally Educational useful!

Filed under: Subject Matter