Naturally Educational » 0-3 (Babies and Toddlers), 1-2 (Toddler), 1-2 (Toddlers), 3-5 (Preschool), 3-5 (Preschool), 3-5 (Preschool), 5-6 (Kindergarten), 5-6 (Kindergarten), Ecology, Featured, Science » Celebrate World Turtle Day with this Craft for Preschoolers
Happy World Turtle Day!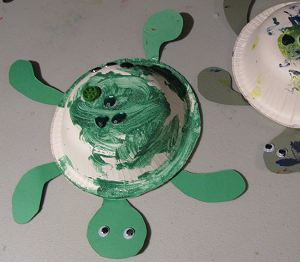 Every year on May 23, the American Tortoise Rescue sponsors World Turtle Day. Beyond learning about turtles and tortoises, the American Tortoise Rescue wants us to take action to help these reptiles survive and thrive.
There are a number of human-created risks to turtles. Our cars crush them as they try to cross the road, we have destroyed their habitats and nesting grounds, there is an active black market for tiny pet turtles, and our lights confuse newly-hatched sea turtles as they make their way to the water.
Here's a fun little turtle craft to honor our little friends:
Materials:
small paper bowl
green construction paper
green paint
green embellishments
googly eyes
glue
scissors
Directions:
1. Paint the bottom side of the paper bowl green.
2. Trace a head, four feet, and a tail on the construction paper and cut out the shapes.
3. Glue embellishments on the bowl.
4. Paste the extremities on the rim of the bowl.
5. Glue googly eyes onto the head.
A Turtle Tale!
What Newt Could Do for Turtle: This is a very sweet book, Turtle is constantly helping out his friend Newt. Finally, one day Newt is able to return the favor. Young children will learn a little about turtles and a lot about friendship.
Educational Connections
Science: What are reptiles?
Ecology: Find out more about why turtles are threatened and how humans can help them survive.
Movement: Try crawling really slowly across the floor like a turtle. Find a box and cut openings for a head, arms and legs. Try crawling with the box on your back.
Literature: Read Aesop's fable of the tortoise and the hare. Do you think it is true that "slow and steady wins the race"?
Culture: How has the turtle figured in world mythology?

Filed under: 0-3 (Babies and Toddlers), 1-2 (Toddler), 1-2 (Toddlers), 3-5 (Preschool), 3-5 (Preschool), 3-5 (Preschool), 5-6 (Kindergarten), 5-6 (Kindergarten), Ecology, Featured, Science · Tags: Reptiles, Tortoises, Turtles