Naturally Educational » Bodily-kinesthetic, Featured, Guest Post, Performing Arts and Theater » What Can Drama Do for Children?
While I am on a short maternity leave, I have invited a few of my favorite activity, craft, and education bloggers to share a guest post. As a former theater major, I am excited to welcome Susan Stephenson from The Book Chook to share why dramatic play can be so important for children.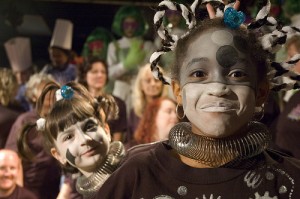 Specialist drama teachers sometimes offer drama lessons to children outside school hours. But how do you know if your child will benefit from such classes? Some parents who are concerned about their child's communication ability turn to drama lessons for help. Perhaps the youngster lacks confidence, or has some problems relating to others. Sometimes children themselves will hear about a theater project or drama group, and beg to attend. Perhaps they see themselves as the star of the show, or maybe they've always loved to express themselves creatively.
I honestly believe drama will benefit any child. During 20 years of teaching drama to after-school classes, I saw shy kids blossom, bossy kids learn to take turns and all kids gain a greater understanding of how to get along with others in activities and performance.
So what can drama or theatre skills do for kids?
Drama helps kids think creatively. Many of the habits they develop during drama, carry over to other everyday and educational settings.
Drama encourages kids to work collaboratively. They take part in activities where they must rely on each other and learn to trust.
Drama is a wonderful way for children to interact with, and interpret literature, or text of any sort. They get opportunities to analyze how a character's personality, motives and actions influence plot. This can be as simple as understanding and portraying the fear that a piggy feels when confronted by a wolf. Some kids who think they don't like books will find their way to reading by dramatizing a story or poem.
Drama develops communication skills. Kids learn how to use their face, voice and body movements to get a message across to any audience, whether it be at a job interview, on stage, or with a group of friends.
Drama allows kids to practice many of the higher order thinking skills in a playful context. They must think critically, apply knowledge to new situations, analyze, solve problems, make decisions, collaborate – all skills that will benefit not just their reading and writing, but every core subject at school.
Drama prepares kids for real life. In our rush to have children acquire academic learning, we often forget their personal and social development. The emphasis in drama is on being a team member and working collaboratively rather than hogging the limelight for yourself. Kids are expected to be active, reflective, flexible, responsible and responsive – all skills that will benefit them in every facet of their lives.
Drama gives kids an outlet for their creativity. Not every child can wield a paintbrush to their own satisfaction or play an instrument like a virtuoso. Drama is a level playing field. I have seen so many children blossom in drama classes.
Drama encourages self-discipline. It might look and sound messy and noisy, but it isn't mayhem. It's not about putting yourself first. It's about working as a group.
Drama gives us a way to gain understanding of others. We learn tolerance by walking a mile in another's shoes, and drama is a way to do that.
Above all, drama is so much FUN! I taught drama to all my regular elementary classes, as well as an after-school drama class for 7 to 15- year-olds. I like to think I did that for 20 plus years for the students' sakes, but you and I know better, don't we?
So the next time you hear:
"Mom, come quick! Billy's head is stuck between the railings!" or "Daddy, I think Puss ate something disgusting and she's sick to her stomach!"
Don't just think, "I get plenty of drama in my life thank you!" Consider channeling that drama into lessons. I passionately believe in the benefits of drama and theater activities and hope you'll consider them for your child.
About the Author:
Susan Stephenson is an Australian writer and teacher who blogs at The Book Chook. She is passionate about children's literature, literacy and learning, and loves to share ideas parents can use with their kids.
photo by jimmothy05


Filed under: Bodily-kinesthetic, Featured, Guest Post, Performing Arts and Theater