Naturally Educational » 0-3 (Babies and Toddlers), 3-5 (Preschool), 3-5 (Preschool), 3-5 (Preschool), 5-6 (Kindergarten), 5-6 (Kindergarten), 6-8 (Early Elementary), 6-8 (Early Elementary), Featured, Science, Spring » Daffodil Craft
We had our April Showers and then some and we've been waiting on our May Flowers.  We've had a few soggy buds but the lack of sunshine has delayed some of our blooms!
We did see the crocuses and the daffodils as spring sprung and we made this pretty daffodil out of a cardboard toilet tube.
Materials:
toilet paper tube
yellow and orange paint
green chenille stem
single hole punch
scissors
Directions:
1. Cut petals on one side of the tube, approximate three-quarters of the way down the length of the tube. Bend the petals so they spread out like a star.
2. Fringe-cut the other side of the tube and bend the fringe out.
3. Paint the petals yellow and the rest of the tub, including the fringe, orange.
4. Let dry and then punch a hole in the tube right below the fringe. Thread a chenille stem through the hole.
A Daffodil
A little yellow cup,
A little yellow frill,
A little yellow star,
And that's a daffodil.
Educational Connections:
Science / Botany: Dissect a daffodil (pdf)
Language Arts: Read the Daffodil poem. What are the cup, frill, and star? Choose another flower and and write your own poem describing the shapes you see.
Science / Botany: Find out more about growing bulbs. Plan to plant bulbs in the fall or force bulbs indoors in the early spring.
History / Culture: The scientific name for the daffodil group of flowers is narcissus.  Read the legend of narcissus and find out why he was turned into a flower.
Picture Book Selection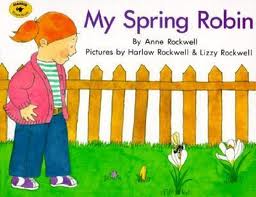 My Spring Robin: Although this book is about a little girl looking for her spring robin, she encounters many other early signs of spring along the way, including a clump of daffodils. The book is simple but appealing to toddlers.

Filed under: 0-3 (Babies and Toddlers), 3-5 (Preschool), 3-5 (Preschool), 3-5 (Preschool), 5-6 (Kindergarten), 5-6 (Kindergarten), 6-8 (Early Elementary), 6-8 (Early Elementary), Featured, Science, Spring · Tags: Daffodils, Flowers