Naturally Educational » 3-5 (Preschool), 3-5 (Preschool), 3-5 (Preschool), 5-6 (Kindergarten), 5-6 (Kindergarten), 5-6 (Kindergartners), 6-8 (Early Elementary), 6-8 (Early Elementary), Ecology, Featured, Guest Post, Science, Summer » Jellyfish Craft
We're on the shore of the Long Island Sound so we frequent the beach and the local aquarium and draw a lot of inspiration for our learning from the sea. When I noticed a cool school craft my friend did with her friend, I asked her to guest post while I am on "maternity leave".
Jellyfish are such lovely and ethereal creatures–even though you don't want to bump into them at the beach!
Here is a frugal and educational Jelly Fish Craft from Krissi, mom of two.
Materials
four plastic bowls…any size (we got them at Target 4 large for $1.99 and 6 small for $1.99)
drill (to make hole)
two wire coat hangers
curling ribbon
scissors
tape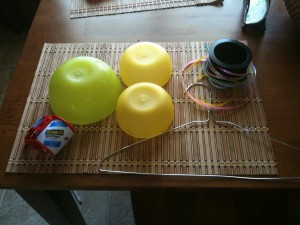 Directions:
1. Tape wire hangers together to make a 4 sided hanging structure
2. Take plastic bowl and drill a small hole in the bottom so that you can put a piece of curling ribbon through

3. Lay out a long piece of tape the size of the inside around the bowl
4. Cut different pieces of curling ribbon various sizes and curl with scissors
5. Attach curling ribbon pieces to tape

6. Attach tape with ribbons to the inside of the bowl.
7. Knot one end of a straight piece of curling ribbon and thread it through the hole in the bowl and tie it to the wire hanger at desired length
Educational Connections:
Science: Jellyfish are not actually fish–find out why not. Older kids can study the classification of jellyfish.
Ecology: Why do people fear jellyfish? Which jellyfish are most toxic to humans?
Ecology: Overfishing has reduced the number of predators of jellyfish, causing more more jellyfish to come closer to shore where humans swim. Older children can research the incidence of jellyfish stings and beach closings in the beach area nearest their homes.
Language Arts: Read and discuss Jenny Jellyfish: A Tale of Wiggly Jellies or Joy the Jellyfish
Language Arts: Introduce the vocabulary: Medusa, sting, venom, tentacles, translucent
Language Arts: A group of jellyfish may be referred to as a smack, bloom, or a swarm. Why might these names be used?
About the Author
Krissi is a mother of two from Ft Rucker, Alabama. Her daughter was asked to do a school project for Kindergarten on their studies in sea life. She wanted to do jellyfish so she sketched some designs and this is what she came up with.

Filed under: 3-5 (Preschool), 3-5 (Preschool), 3-5 (Preschool), 5-6 (Kindergarten), 5-6 (Kindergarten), 5-6 (Kindergartners), 6-8 (Early Elementary), 6-8 (Early Elementary), Ecology, Featured, Guest Post, Science, Summer · Tags: Jellyfish, Medusas, Sea Creatures