Naturally Educational » 0-3 (Babies and Toddlers), 1-2 (Toddlers), 3-5 (Preschool), 3-5 (Preschool), 5-6 (Kindergarten), 5-6 (Kindergartners), 6-8 (Early Elementary), 6-8 (Early Elementary), Featured, Science, Summer, Weather » 5 Picture Books About Summer
Summer Beat
, by Betsy Franco, explores the rhythms of summer in onomatopoeic verse.  The kids really related to the breezy feeling of summer freedom. The sound words are fun for my beginning reader and my son loves the fireworks display at the end!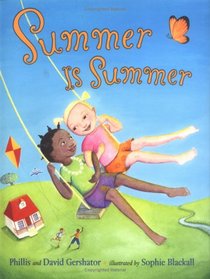 Summer Is Summer, by Phillis and David Gershator, follows a group of multicultural friends as they enjoy the sights, sounds, smells, tastes, and sensations of summer. The simple, spare text paired with rich illustrations makes this perfect for reading to a mixed-age group. On one page, for example, the text "Salty air, Sandy hair-, Summer is summer is summer," accompanies a picture of children building sandcastles of the Eiffel Tower, the Chrysler building, Big Ben, and other famous landmarks.
Sunny Day, by Claire Henley, is a basic description of some of the things you might do and see during a summer's day. Toddlers will enjoy recognizing their own experiences and some of the pages are a good jumping off point for discussion. Ask the youngest kids what they enjoy doing on a sunny day. Preschoolers will enjoy learning why lizards bask in the sun or why ice cream melts. What really sets this book apart are its vivid batik-style illustrations.

The Longest Day: Celebrating the Summer Solstice and The Summer Solstice are two non-fiction books about the science, traditions and legends surrounding the Summer Solstice. They have similar content, including experiments and activities, like making a sun dial, crafting a flower wreathe, or cooking a hotdog with solar power. The Summer Solstice also has a story adapted from a Hawaiian chant.

Filed under: 0-3 (Babies and Toddlers), 1-2 (Toddlers), 3-5 (Preschool), 3-5 (Preschool), 5-6 (Kindergarten), 5-6 (Kindergartners), 6-8 (Early Elementary), 6-8 (Early Elementary), Featured, Science, Summer, Weather · Tags: Summer, Summer Solstice