Naturally Educational » Ecology, Science, Smart Summer Challenge, Spring, Summer » Backyard Science – #SmartSummer Challenge Week 3
It is Backyard Science week here for the Smart Summer Challenge*.
I have been so excited for Week 3 of the Smart Summer Challenge!  Science and art are just such natural parts of a young child's play that it is just so easy to point out these opportunities for learning…right in our own backyard!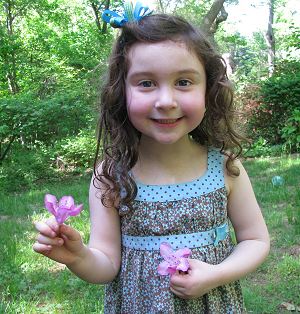 I could have filled the entire summer with experiments, crafts and art projects, book lists, games, and more for this theme. Here are the activities I plan to highlight…subject (as always) to change based on the weather, sudden brainstorms, children's moods, or just random whims.
Making "F is for Flowers" letter of the week crafts.
Alphabet books about flowers.
Making flower crafts.
Observing the butterfly life cycle.
Making caterpillar and butterfly crafts.
Baking ladybug cookies
* What is the Smart Summer Challenge? Amy of teachmama.com, MaryLea of Pink and Green Mama, and I are challenging our community to beat the "summer slide" (the learning loss that can happen over the summer).
We'll be posting our activities daily, loosely following this calendar of educational summer ideas, and hosting a weekly linky (with PRIZES) for others to share their ideas and activities. The Week 2 linky is up.  Week 3 linky will go up FRIDAY, July 15!
You are invited to find an opportunity for learning with your children every day–it can be as simple as reading a book or playing a game or as involved as a themed craft and activity. You don't have to follow our themes or suggestions–just commit to making time to learn together!
There's also a Smart Summer Challenge facebook page so we can all add our own tips, links, and photos!

Filed under: Ecology, Science, Smart Summer Challenge, Spring, Summer