Naturally Educational » All Ages, Smart Summer Challenge » Week 3 #SmartSummer Linky: Backyard Science + Government Week Round-Up
Show us how you're having a Smart Summer in your own backyard!
This week's prize is from one of my favorite fair-trade, eco-friendly kids' toys boutiques. Our theme for this week was Backyard Science…and we had lots of fun exploring in our own backyard!  I can't wait to hear what you have been doing to find the learning opportunities in the everyday.
I had highlighted posts from the previous week's linky to but for clarity's sake, I've moved the round-ups to their own posts:
Share YOUR Week 3 Links!
We'd love for you to share your ideas–you can add a link to a post on your blog or even a photo set on Flickr or any types of publicly viewable "journal" entry on a social media or community site.
Not a blogger? If you do not have access to posting entries on any public site, you can also leave a comment on this post, sharing the learning opportunities you incorporated into your week with your children.
Your post (or comment) can be something from your archives that speaks to our theme for the week (Backyard Science) OR it can just be a general post about how you are fitting fun learning into your summer activities. You can find our weekly themes on our calendar of ideas but ANY learning activities, big or small, are welcomed!
Just add your link(s) (as many relevant links as you would like) to a specific post or page (i.e. http://www.naturallyeducational.com/2011/06/fight-the-summer-slide-with-the-smart-summer-challenge/ NOT http://www.naturallyeducational.com) to the link widget below.
WIN PRIZES!
This week's prize  is a $150 credit to Rosie Hippo:
At Rosie Hippo, you will find beautifully handcrafted wooden toys, toys made from organic fabrics, toys from individuals, companies, villages and cooperatives around the world, and books and games that stimulate creativity and independent thought. We offer toys that will evoke a sense of fun, curiosity and wonder for that special little one in your life. And all of our toys are produced under conditions that are fair to workers and kind to our environment. Kim Bloom runs Rosie Hippo, inspired by her successful battle with cancer, her son Ethan's delightful curiosity, and her interest in child development. Read more of her ideas on her blog.
If I had a$150 gift credit to Rosie Hippo, I know I would have a great time shopping their lovely selection of toys! We already own a bunch of their wonderful educational toys, like the Animal Memo Game, Sun Moon Star Drum,  or Hug a Planet, which I might pick up as presents for friends. Or check out these gorgeous wooden mobiles.
For my own kids, I would be tempted by the Dragon Counting Game or Pirate Arithmetics, these gorgeous wooden animals (my son would flip over the dinosaurs), this cute sorting bus, the stitching squirrel, the racing team truck…the list goes on and on!
Official Rules
The linky and giveaway closes at 11:59 PM EST on Thursday, July 21…and then we'll see you back Friday morning for more fun! You may enter as many links as you wish and each will count as an entry. Comment entries are limited to one per person, per site (total of three (3) possible comment entries). US Shipping only for prizes, due to sponsor requests, but international friends are still encouraged to play and add their links! Winner will be chosen at random from valid entries.
You retain the rights to all entries but grant us permission to share your links along with a short excerpt and thumbnail image.

We reserve the right to disqualify entries at our sole discretion and change the rules or prizes without notification beyond updating the page.

Spread the Word!
We'd love you to help spread the word–please feel free to link back and/or grab the code for the button below. And don't forget to visit us on Facebook where we are sharing some more ideas from the community! Feel free to also post photos, questions, and ideas on the Facebook page, too: http://www.facebook.com/smartsummerchallenge.
Thank you for taking the Smart Summer Challenge!
Your hostesses,
Candace at NaturallyEducational.com, Amy at teachmama.com, MaryLea at PinkAndGreenMama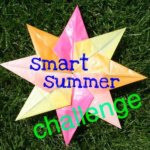 <a title="smart summer button '11" href="http://www.facebook.com/smartsummerchallenge"><img src="http://farm6.static.flickr.com/5194/5829107237_2558c61bf9_m.jpg" alt="smart summer button '11" width="150" height="150" /></a>

Filed under: All Ages, Smart Summer Challenge · Tags: Backyard Science, Coins, Fourth of July, Government, Patriotic