Naturally Educational » Academic Achievement, Drop-Out, Social Justice » Do We Have the Will? At #GiveEducation with P&G and John Legend
July 20th, 2011 | Comments Off on Do We Have the Will? At #GiveEducation with P&G and John Legend |
Education is our future and we are standing at the crossroads.  Too many of our children, mostly our poor and our children of color, are falling through the cracks of a system that was not designed to reward the creativity and independent thinking necessary for success in the 21st century.
Although we are in the middle of our Smart Summer Challenge, I passed the learning adventure guide hat to my husband.
I took the day to learn more about Communities in Schools and how they are partnering with P&G Give Education and recording artist and philanthropist John Legend to "School the Nation" and launch a full assault on the abysmal drop out rate in our nation.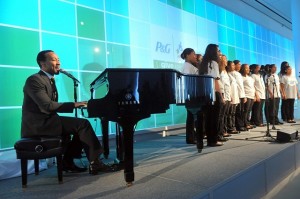 First, some of the statistics:
Every nine seconds of each school day, a young person drops out of high school in the U.S.
If dropouts from the class of 2009 had graduated, the nation's economy would have benefitted from nearly $335 billion in additional income over the course of their lifetimes.
If the male graduation rate were increased by only five percent, the nation would see an annual savings of $4.9 billion in crime-related costs.
2,000 of our nations schools account for 50% of its dropouts.
Early in my career, I tutored for America Reads in a charter school and taught at a school with students from the METCO program (a voluntary busing program in the Boston area).  From these experiences and others, I've seen the complexity of the myriad issues that face our education system.  I had a promising student who was very intelligent but just barely literate.  She said she couldn't do her work at home because she had no where to sit. She couldn't stay after school because she had missed the bus once and her mom had to leave work to pick her up.  I worked out something with her mom and tutored her after school.
The issue is a convoluted and messy one that does not have a simple answer.  Wrapped up in issues of student performance are problems of health, pollution, race, economic inequality, urban planning, and much, much more.  However, there are solutions.  We know there are proven methods that can have a dramatic impact on drop out rates.
As complex as the issue is, the answer may still be summed up in a word: community.
Community involvement improves the quality of schools and increases the performance of students. Communities in Schools works to draw upon existing community resources to make this sort of success replicable in some of the nations most troubled school districts.
Many of the resources we need to combat drop-out rates already exist but access remains a problem. Children are misdiagnosed, resources go underutilized, and valuable information does not reach the professionals who need it.  By placing a site coordinator in the school, CIS ensures that one person maintains an overview of the available services.  This is a holistic approach to encouraging positive community, family, and student engagement.
And an essential component of this is the personal touch–the counselor who knows each child's name and situation and cares whether or not they succeed.  As Dan Cardinali, the President of CIS, explained, "We've never seen a program change a child's life but we've seen relationships change them."
I appreciate, too, that CIS strives to create realistic, deliverable expectations.  Reform cannot be just another unfulfilled promise.
John Legend shared that he attributes his success to talented educators who took the time to notice him and to insist on high standards for his achievement.  Because his talents were nurtured, he went on to attend the University of Pennsylvania, become a successful recording artist, and work as an education activist.
I appreciate that P&G Give Education and Communities in Schools chose a celebrity spokesperson who is not just another "pretty face" but who has a long-term commitment to education reform.  John Legend is passionate and opinionated and is no stranger to the politics of education reform, having spoken out and written articles about teacher accountability and charter schools.  Agree or disagree with him, you have to respect that he crafts his carefully considered positions from a place of deep understanding.
You would think that changing the world would come with a hefty price tag but according to the materials from CIS, the average annual cost per student was $192.  Compare that with the cost of unemployment, welfare, and incarceration and you have the bargain of the century.
As a former classroom teacher, it is easy to be skeptical of any school reform.  We've seen so many come and go and this is not an issue with a quick fix.
I grabbed Dan Cardinali's card because I still have a lot of questions about CIS.  He promised he'd give me some of the nitty-gritty details when I follow-up.
I want to know, how do we recruit and keep these talented educators? We need to ensure that quality teachers are recruited into the profession, not just shifting over to the schools that are the focus of these programs.  And we need to make sure these teachers receive the support they require to develop as professionals.  It takes time to build an effective teaching practice but 50% of new teachers leave the profession within 4 years.
With so many programs being cut, including AP classes and arts and sports, how do we keep students motivated and prepared for life beyond secondary school? And how do we ensure that we can keep promises made?  If we tell a 7th grade student that if he works hard and stays focused and graduates, we'll be there to make sure he can afford college and will receive the support he needs to succeed in college, we must make sure we can deliver.
I also want to better understand how we create a sense of stability and continuity in communities where there is so much in flux. We have always had poor neighborhoods but with the current housing crisis, we have even great upheaval.
And how do we efficiently and effectively reach out to such a diverse community? Diversity is one of the strengths of a lot of our urban areas but how does a school afford to keep translators on the payroll to communicate with non-English speaking parents.
Most importantly, I want to know how we develop the will to solve this problem. Mr. Cardinali pointed out that New York City and the nation rallied together following 9/11.  The outpouring of donations and volunteer strength was even greater than the need.
We have the knowledge and the means to guarantee access to a free and appropriate education for all of our children…let it not be said we lacked only the will.
—
P&G is reimbursing my travel to and from the event. All opinions are my own. Here is some information from P&G about how you can help through your purchases:
A new campaign, GIVE Education will raise awareness of and support for CIS, enabling it to continue channeling much-needed resources to students who are at greatest risk of dropping out. Consumers can take simple steps to help through the redemption of GIVE Education brandSAVER coupons. On Sunday, July 31, the GIVE Education brandSAVER, featuring a note from John Legend, will be distributed in newspapers across the country, with discounts on trusted P&G products. For each GIVE Education brandSAVER coupon redeemed, P&G will donate two cents to CIS – allowing consumers to give back, while saving money. The P&G uncapped donation will be based on the number of coupons redeemed beginning July 31 – the more consumers save, the more they give.

Candace Lindemann, Yale, BA, Harvard Graduate School of Education, EdM, is an educational consultant and published writer. She enjoys new learning experiences with her children, ages 6 and 4 and 1.5.
Filed under: Academic Achievement, Drop-Out, Social Justice
Connect and Discuss
Subscribe by E-mail
Browse Categories
About the Author
Candace Lindemann is a published children's writer and educational consultant. She holds a B.A. from Yale University and an M.Ed. from the Harvard Graduate School of Education.
Working with school districts around the country and some of the most well-known companies in the education industry, Candace creates custom strategies, textbooks, and lesson plans. Her articles have appeared in print and online.
While Candace's degrees prepared her for a career in education, she's found that the best preparation for parenting is on the job training.
Contact Candace
via e-mail
, read her
full biography
, or connect with her using the social media icons below or on
Google
.
© 2018 Naturally Educational