Naturally Educational » 3-5 (Preschool), 3-5 (Preschool), 5-6 (Kindergarten), 5-6 (Kindergarten), 6-8 (Early Elementary), 6-8 (Early Elementary), Featured, Science » Dinosaur Pasta Skeleton
We've been learning about dinosaurs and have enjoyed our visits to the American Museum of Natural History. The kids tried their hands at assembling a dinosaur skeleton made of macaroni.
Materials:
Directions:
1. Tape clear plastic over the printout of the skeleton.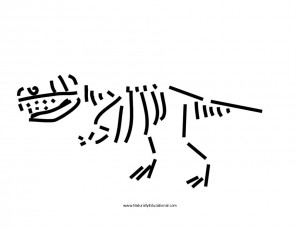 2. Glue macaroni along the outlines.
3. Remove the plastic and allow to dry while you draw a prehistoric scene on the paper.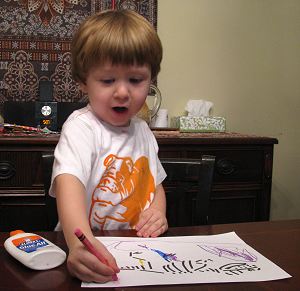 4. We added ferns because ferns have been around for more than 300 million years!
5. Add a border of glue around your drawing and then place the plastic on top.
Educational Connections:
Paleontology: How do paleontologists assemble dinosaur skeletons from fossilized remains? How do they determine which bones go where and whether the dinosaurs stood upright or walked parallel to the ground?
Botany: What plants are around today that were around in the time of the dinosaurs?
Museum Studies: If you were curating a dinosaur exhibit what would you include in the displays?

Filed under: 3-5 (Preschool), 3-5 (Preschool), 5-6 (Kindergarten), 5-6 (Kindergarten), 6-8 (Early Elementary), 6-8 (Early Elementary), Featured, Science · Tags: Dinosaurs, Paleontology