Naturally Educational » 1-2 (Toddlers), 3-5 (Preschool), 5-6 (Kindergarten), 6-8 (Early Elementary), 9-11 (Elementary), Featured, Musical, Science, Smart Summer Challenge, Songs » Outer Space Songs for Preschool through Elementary School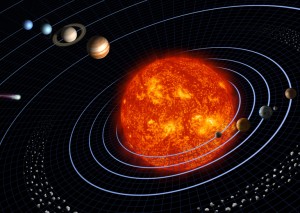 We like to sing songs as we learn. Audio cues have always helped me remember information and it seems to work well with my children, as well.
Here are a few songs about the planets in our solar system.
Please note these are not my original lyrics. I have found them at several different places on the Internet without a listed author. If you wrote any of these (or know who did), please let me know and I will be happy to credit or take down, if you prefer.

Going to the Moon (Any Age)
Zoom zoom zoom,
We are going to the moon!
If you want to take a trip,
Climb aboard my rocket ship!
10-9-8-7-6-5-4-3-2-1…
Blast Off!
—
Stars! Planets! Action! (Ages 2+)
Sung to: "London Bridge"
The planets
spin around the sun,
Around the sun, Around the sun.
The planets spin around the sun,
We live on earth!
The sun is found in the middle,
In the middle, In the middle.
The sun is found in the middle,
It keeps us warm!
The stars are twinkling far away,
Far away, far away.
the stars are twinkling far away,
Now make a wish
—
"The Planet Song" (ages 3+)
From Blue's Clues

Well, the sun's a hot star… Mercury's hot too.
Venus is the brightest planet… Earth's home to me and you.
Mars is the red one. Jupiter's most wide.
Saturn's got those icy ring's, and Uranus spins on its side.
Neptune's really windy, and Pluto's really small.
Well, you wanted to name the planets, and now you've named them all!
[Note: If you leaving out Pluto, you can sing "the rest are really small" or "the rest aren't planets at all".]
—
Twinkle Song (Ages 3+)
Sung to: "London Bridges"
Twinkle Twinkle Little stars
Friends of Jupiter
and of Mars
All you do the whole night through
Is Twinkle, Twinkle, Twinkle
Shine on shine on friends of mine
If wishes really do come true
Please oh please oh please come true
The wish I wish tonight on you
Then tomorrow All day through
I'll Twinkle, Twinkle, Twinkle.
—
One Little Planet (Ages 3+)
Sung to: "One little, Two little, Three little Indian"
One little two little three little planets
Four little five little six little planets
Seven little eight little orbiting planets
Circling 'round the sun.
Mercury, Venus, and the Earth,
Mars, Jupiter and Saturn
Uranus, Neptune, and their moons…
Orbiting 'round the sun.
The Family of the Sun (Ages 5+)
Sung to: "Farmer in the Dell"
REFRAIN
The family of the Sun,
The family of the Sun,
Here are eight planets in
the family of the Sun.
Mercury is hot,
And Mercury is small.
Mercury has no atmosphere;
It's just a rocky ball.
REFRAIN
Venus has thick clouds
That hide what is below.
The air is foul; the ground is hot.
It rotates very slow.
REFRAIN
We love the Earth our home,
Its oceans and its trees.
We eat its food; we breathe its air,
So no pollution, please.
REFRAIN
Mars is very red.
It's also dry and cold.
Some day you might visit Mars
If you are really bold.
REFRAIN
Great Jupiter is big.
We've studied it a lot.
We found that it has lots of moons,
And a big, red spot.
REFRAIN
Saturn has great rings.
We wondered what they were.
Now we know they're icy rocks
Which we saw as a blur.
REFRAIN
Uranus is far.
It's cold and greenish-blue.
We found it rotates sideways,
And it has a lot of moons.
REFRAIN
Neptune has a spot;
A stormy patch of blue.
The planet has a lot of clouds
And rings around it, too.
REFRAIN
—
This post is part of the Smart Summer Challenge–we're encouraging you to beat the summer vacation slide with fun, everyday learning activities! You can take just 10 minutes a day to find the educational opportunities all around us or get as elaborate as you like! Whatever you do, we invite you to share your experiences each week in our linky, which goes up every Friday during the challenge and stays open through Thursday.
Find out more about the Smart Summer Challenge and grab our free calendar of summer learning ideas, and "like" the Smart Summer Challenge page on Facebook.


Find more great ideas from your hostesses, Candace of Naturally Educational (that's me!), Amy of TeachMama.com, and MaryLea of Pink and Green Mama!

Filed under: 1-2 (Toddlers), 3-5 (Preschool), 5-6 (Kindergarten), 6-8 (Early Elementary), 9-11 (Elementary), Featured, Musical, Science, Smart Summer Challenge, Songs · Tags: Astronomy, Planets, Solar System, Space