Naturally Educational » 1-2 (Toddler), 1-2 (Toddlers), 3-5 (Preschool), 3-5 (Preschool), 5-6 (Kindergarten), 5-6 (Kindergarten), 6-8 (Early Elementary), 6-8 (Early Elementary), Ecology, Fall, Featured, Science » A is for Apple Sun Catchers
We make new sun catchers for our windows every season. There are a few ways to make easy sun catchers and this is the simplest!
For the early fall, we made apple sun catchers with an upper and lower case letter "A".
Materials:
permanent ("Sharpie") marker
plastic (from a clear plastic bag, packaging, folders, whatever you have on hand)
tissue paper (for whichever color apples you want, plus green for the leaf)
glue
glitter (optional)
to hang: either glue stick OR a hole punch and thread/fishing wire
Directions:
1. Use your permanent parker to trace or draw an apple shape onto your plastic. We used a plastic packaging sleeve.
2. Cut out small pieces of the tissue paper and set aside.  You do not need to cut precise shapes (in fact, I think it looks better if you do not).
3. Flip the plastic over to the reverse side and coat with glue.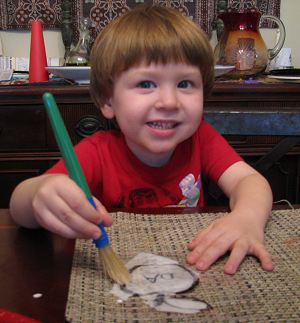 4. Start placing the pieces of paper on the design. They can overlap (it looks great) and run over the edges (you will be trimming them).
Note: If you want to use glitter, sprinkle it on before the paper. My son chose to use glitter on the leaf. The glitter looks like spots during the day when back-lit but looks sparkly at night.
5. Let dry and trim.
6. Adhere to window with a dot of glue stick or punch a hole in the sun catcher and use a thread or fishing wire to hang.
Educational Connections:
We'll be doing plenty of apple crafts and activities.  For this first one, we are just (re)introducing apples!
Botany: Where do apples grow (on trees? in the ground? on bushes?)
Art/Color: What colors are apples?
Literacy: Apple begins with "A"–what other words begin with the letter "A"?
History/Culture: Apples figure in a lot of stories and legends and traditions. Can you think of a few? For example. the apple of discord, the apple in the Garden of Eden, apple for the teacher, an apple a day keeps the doctor away, the apple doesn't fall far from the tree, and Johnny Appleseed. Read a legend about apples or discuss some of the sayings that involve apples. Why are apples a symbol of knowledge and health?

Filed under: 1-2 (Toddler), 1-2 (Toddlers), 3-5 (Preschool), 3-5 (Preschool), 5-6 (Kindergarten), 5-6 (Kindergarten), 6-8 (Early Elementary), 6-8 (Early Elementary), Ecology, Fall, Featured, Science · Tags: Alphabet, Apples, Fall, Letter A