Naturally Educational » Me » Naturally Educational is Nominated as a Parents.com Best Craft for Kids Blog
Dear Friends,
NaturallyEducational.com is a labor of love. Although I have been a professional educator for over a decade and run my consulting firm for seven years, I do not focus on monetizing this website.  I know you come here for activities, crafts, and educational ideas–not for ads. When I do work with companies, I try to do so in a way that adds value for you.
If you have found information or inspiration here, I hope you will vote for Naturally Educational on Parents.com.
To vote, you will need to register and complete a profile (otherwise you will get an error message when voting).  They will be recognizing both the top vote getter and an "editors' pick".  You may vote for more than one blog in a category.
Thank you!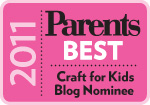 Filed under: Me