Naturally Educational » 3-5 (Preschool), 3-5 (Preschool), 5-6 (Kindergarten), 5-6 (Kindergarten), 6-8 (Early Elementary), 6-8 (Early Elementary), 9-11 (Elementary), 9-11 (Elementary), Art, Featured, Science, Sight » Is It Okay to Use a Craft Kit?
One of the best gifts we can give our children is our time.  Quality time spent with our children, engaging in fun, interactive activities, boosts their self-esteem and encourages their creativity.
I have had moms quietly whisper to me, "I used a craft kit…is that okay?"
Well, that depends… is your goal to enjoy an activity with your child or is it to improve your own bargain shopping, cutting, and gluing skills?
I kid.
I think we all agree that the goal is to share the experience with our children. If you find it therapeutic to cut 500 identical squares of tissue paper, please do not let me stop you!  For the rest of us, there is a lot to be said for the convenience of craft kits.
Stick with open-ended craft kits that still leave plenty for your child to explore. The kit should be making less "prep work" for the adult–not less fun for the child. A good craft kit should provide a child with lots of choice and plenty of age-appropriate tasks, such as stringing beads or bells, pasting, coloring, drawing, cutting, stamping, etc.  The structure should simply suggest possibilities to your child, rather than restrict his creativity.
Kiwi Crate sent me their colors crate and this is a perfect example of the type of craft kit that really works well for inspiring young artists.
(Love the super-cute packaging.)
Each crate has two projects and a bonus activity. With each activities, there are questions, ideas, and resources for extending the learning, which is very aligned with what I try to do on this blog. This sort of creative art-play is exactly the type of learning that works well for young children.
First, we tried the spinning tops: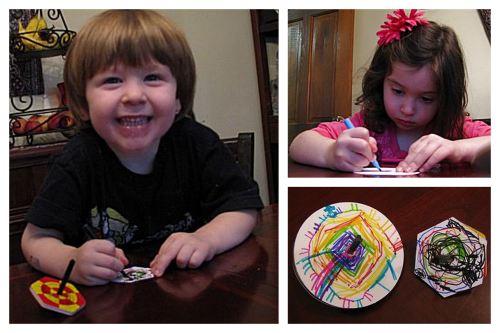 The children had a great time coloring in the white disks and they really appreciated that there were multiple blank disks so they could try different color combinations.
I was surprised at how easy it was for the kids to spin the tops themselves.  And we had a great time talking about balance and motion and color mixing as we watched them twirl.
Then, we followed the suggestion in the box and tried spinning the tops on different surfaces.
Tops don't spin very well on carpet and they definitely don't spin on top of your head!  They spin best on hard, smooth surfaces like the wood floors.  What a neat little physics lesson about friction!
Next, we brought out the "stained glass" project. My kids really enjoy sticking tissue paper squares on contact paper so I knew this would be a hit.  And this time mom isn't running around saying, "hold on, one second, let me find…"
I like that, in addition to the tissue paper squares, they provided plastic gels that the kids could cut up themselves. This is a material we ordinarily do not have around the house and it added something new for the kids.
My young children just wanted to make abstract, geometric patterns.  Older children might be interested in creating mosaic stained glass.
We talked a little bit about why stained glass is so appealing and reinforced the word "translucence".  With older children, you might discuss the use of stained glass in Cathedrals and churches and look at pictures of famous stained glass windows.
We noted the areas of color mixing and the way the light shined through the tissue paper and gels. Then we put on the pair of blue-tinted glasses in the crate and saw how the whole world turned blue!  At this point, the glasses became the focus of the children's activities and art time was done.
The crate also has a canvas bag and dropper for tissue paper dye transfer–we'll save this for another time.
Kits like this one from Kiwi Crate can be a big time saver so you can get down to the business of bonding, exploring, learning, and having lots of fun.  Really, it all comes down to whether or not you tend to have a lot of craft materials already on hand, lots of ideas, and time to prep the materials.   If you value the convenience, a quality, open-ended craft kit saves time without diminishing the value of the play experience.
—
Kiwi Crate offers 3, 6, and 12 month subscriptions for a present that any family would enjoy together–so much better than another gazillion plastic toys.  Check out the Kiwi Crate Blog for more ideas and inspiration.  I received a crate so I would have the opportunity to explore Kiwi Crate's offerings. All opinions, words, and images are my own.

Filed under: 3-5 (Preschool), 3-5 (Preschool), 5-6 (Kindergarten), 5-6 (Kindergarten), 6-8 (Early Elementary), 6-8 (Early Elementary), 9-11 (Elementary), 9-11 (Elementary), Art, Featured, Science, Sight · Tags: Colors