Naturally Educational » 1-2 (Toddler), 3-5 (Preschool), 5-6 (Kindergarten), 6-8 (Early Elementary), Educational Blogs, Featured » The Monster Mash-Up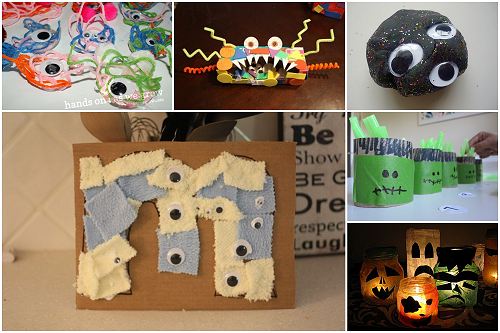 Because a monster can look like ANYTHING, it makes a fabulous open-ended craft for preschoolers, kindergartners, and early elementary-aged kids. Plus, you can use up all sorts of odds and ends from your craft cabinet.
I still remember a collage-technique monster I made at school from magazine cut-outs.  I named it after my mom and thought she'd be flattered! She didn't love the likeness of "Linda the Jello Monster" but she did appreciate the creativity.
Here are some awesome Monster Crafts for Kids I found at my favorite bloggers, plus one of my own:

Filed under: 1-2 (Toddler), 3-5 (Preschool), 5-6 (Kindergarten), 6-8 (Early Elementary), Educational Blogs, Featured · Tags: Halloween, Monsters