Naturally Educational » 6-8 (Early Elementary), 6-8 (Early Elementary), 9-11 (Elementary), 9-11 (Elementary), Art, Featured, History and Culture, Home Arts » Easy, Edible Sugar Skulls (Calavera) for Dia de Los Muertos
Today, we made easy, edible calaveras for Dia de los Muertos with the kids.  Traditional Mexican Sugar Skulls for Dia de los Muertos are time-intensive handicrafts. Although most would technically be edible, you probably would not want to eat them.
Since I have young children who are learning about Latin American culture and Spanish language with their Latino friends, I wanted to find a way to make the sugar akulls simple enough for the kids. Plus, it has been a while since we have made an edible craft and there was no way I would be able to convince the children that something called "Sugar Skulls" are not for eating.
I considered skull-shaped sugar cookies but wanted to try something a little different. Here's what we came up with:
Easy, Edible, Kid-Friendly Sugar Skulls (Calavera) for Dia de Los Muertos
(yields 9)
Materials:
3 T Butter (plus a little more)
5 cups mini marshmallows
6 cups puffed rice cereal (aka "Rice Krispies")
vanilla icing (optional)
chocolate candies (aka "M&M's"), sprinkles, chocolate chips
Directions:
1. Mix the ingredients for the classic "Rice Krispie Treats" (melt 3 T of butter over low heat, add 4 cups of mini marshmallows and stir until they melt, fold in 6 cups of puffed rice cereal until well coated).
2. Butter your hands (eat your heart out, Paula Dean) and form the mixture into nine balls about the size of your fist. Press in with both thumbs to form the eye sockets and put the skulls on tin foil or waxed paper.
3. If desired, cover with vanilla icing. We tried them both ways.
4. Add chocolate chips or M&M's for the eyes. Split a chocolate chip to form nostrils. Use mini M&M's or sprinkles to add other decorations. For the teeth, we found taking four mini marshmallows and then cutting them in half to form an upper and lower row of teeth.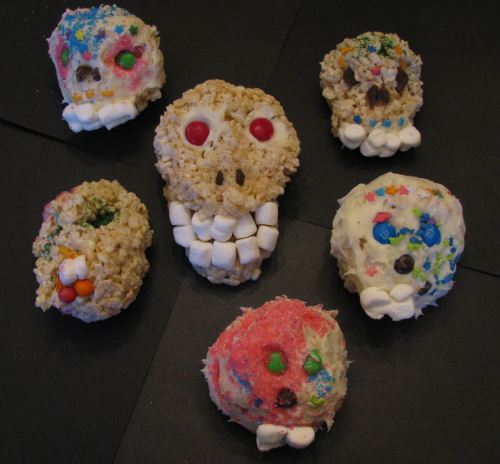 Educational Connections
History and Culture: What is Dia de los Muertos? How did native traditions combine with Spanish Catholic traditions in this holiday?
History and Culture: Traditional decorations for All Saints' Day and All Souls' Day in Europe were expensive. Why did people in Mexico begin to use sugar in their decorations? Does your family make any decoration out of inexpensive materials or food (paper chains, popcorn garlands, for example)?
History and Culture: What else is placed on the alters for the departed loved ones?
Art: What do flowers and bright colors usually represent? Why are these used on skulls? What does this say about the traditional Mexican attitude about death?
Social and Emotional Development: If you feel it is appropriate, you can discuss some of the people you love who are no longer among the living. How does your family remember these people and honor them?

Filed under: 6-8 (Early Elementary), 6-8 (Early Elementary), 9-11 (Elementary), 9-11 (Elementary), Art, Featured, History and Culture, Home Arts · Tags: Cooking with Kids, Dia de los Muertos, Halloween, Kids in the Kitchen, Skulls