Naturally Educational » 1-2 (Toddler), 1-2 (Toddlers), 3-5 (Preschool), 3-5 (Preschool), 5-6 (Kindergarten), 5-6 (Kindergarten), 6-8 (Early Elementary), 6-8 (Early Elementary), 9-11 (Elementary), 9-11 (Elementary), All Ages, Art, Ecology, Fall, Featured, Science, Weather » Fall Leaf Prints
We're in one of the last zones to experience the fall leaf change. Well, our trees have finally exploded in color! I was concerned that we would not get the really vivid colors this year after the hurricane. Hurricane Irene cut a swath across the area, "burning" crops and trees in addition to causing floods and knocking down tree.
Nature is resilient, however. Although there are more browns this year than golds and reds, there is still plenty of autumnal colors to enjoy.
We experimented making leaf prints with markers and watercolors and different paper. The kids decided (and I agree) that the watercolors work best, paired with paper with a little "tooth" (texture).
This is something very simple you can do with your kids–even if your leaves don't change color at all!
1. Gather up some leaves.
2. Paint the leaves (we found water color worked best but the markers also worked, especially if we sprayed them with a little water). Experiment…try painting the leaf the colors that it is in nature. Try painting it all one color. Try non-realistic colors. And so on.
3. Press the leaves paint-side down. Roll with a rolling pin. You can also just press down but this is more effective and more fun!
Display your finished artwork!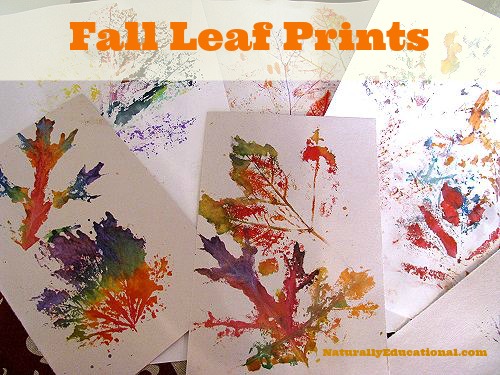 Educational Connections:

Filed under: 1-2 (Toddler), 1-2 (Toddlers), 3-5 (Preschool), 3-5 (Preschool), 5-6 (Kindergarten), 5-6 (Kindergarten), 6-8 (Early Elementary), 6-8 (Early Elementary), 9-11 (Elementary), 9-11 (Elementary), All Ages, Art, Ecology, Fall, Featured, Science, Weather · Tags: Autumn, Autumn Leaves, Fall, Leaves, Trees