Naturally Educational » 3-5 (Preschool), 3-5 (Preschool), 5-6 (Kindergarten), 5-6 (Kindergarten), 6-8 (Early Elementary), 6-8 (Early Elementary), Featured, History and Culture » Chinese New Year Dragon Puppet
Last year we made a dragon with paper loops. This year I thought we would try a puppet! It looks perhaps a bit too snake-like. I think next year we'll try again with something around the head…maybe more ribbons? Or possibly I will just a make a template?
Materials:
red paper
white paper
red and gold paint
cardboard tube (toilet paper tube)
googly eyes
ribbon
craft sticks
gold  crayon or marker
glue
scissors
Directions:
1. Cut a mouth in the cardboard tube.
2. Paint! Then let dry.
3. While that is drying, cut a strip of red paper and color with gold crayon. Older kids can try to copy Chinese symbols for Happy New Year, Health, Prosperity, etc.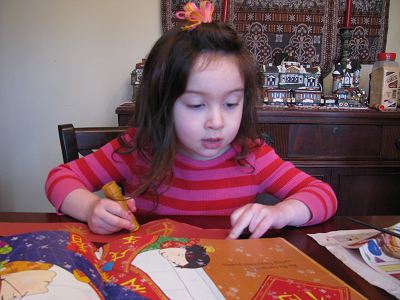 3. Accordion fold the strip of paper and paste either end to a craft stick.
4. On one end, glue or tape strips of ribbons.
5. Add teeth, eyes, and a tongue to the dragon.
6. Cut a slit in the back and glue the head in place.
Educational Connections:
Culture: Each Chinese Year is represented by an animal on a 12-year zodiacal cycle.  What your Chinese astrological sign?
Culture: Which Chinese traditions are supposed to clear out bad luck from the previous year?  Which traditions welcome luck and prosperity for the New Year?  Do you have any similar New Year's traditions?
Home Arts: How do families of Chinese heritage prepare their homes for the New Year?  What does this represent?
Home Arts: Make some of the traditional Chinese New Year dishes.
Field Trip: See if a cultural center or neighborhood near you is celebrating Chinese New Year and if guests are welcome.
Mathematics: The Chinese New Year arrives on a different day of the Western calendar each year.  Why is that?

Filed under: 3-5 (Preschool), 3-5 (Preschool), 5-6 (Kindergarten), 5-6 (Kindergarten), 6-8 (Early Elementary), 6-8 (Early Elementary), Featured, History and Culture · Tags: Chinese New Year, Dragons, Snakes