Naturally Educational » All Ages, Featured, History and Culture, Science, Weather, Winter » How to Make an Ice Lantern
We were looking forward to this simple way to welcome the winter but the weather has not cooperated until now! Originally, we wanted to make an ice lantern on the Winter Solstice. Then we were aiming for New Year's. We could have used the freezer but it is hard getting in the winter spirit when it feels like spring!
Materials:
one large plastic container or bucket
one smaller plastic container (a plastic cup would work)
water
one tea light
twigs, berries, evergreen boughs
Directions:
1. Gather twigs, berries, and evergreen boughs and place in a bucket filled 3/4 with water.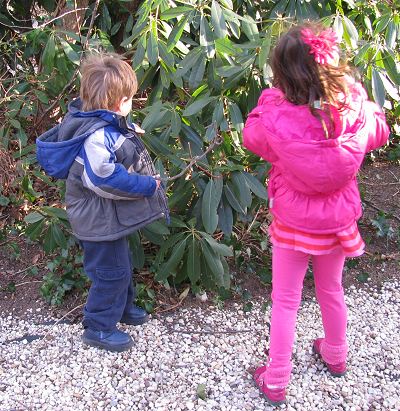 2. Weigh down the smaller container with rocks until it sinks but does not fully submerge in the larger container.
3. Leave out overnight in freezing weather or place in the freezer. Once it is frozen solid, pour hot water around the outside of the larger container to loosen. Pour water into the smaller container to remove.
5. Wait for nightfall and light and insert the tea candle.
These look even better in snow but we were tired of waiting!
Educational Connections:
History/Culture: What festivals do people celebrate around the world at the beginning of winter? What ancient festivals did people celebrate? What are some of the common elements of these holidays?
Science and Weather: What causes the change of seasons? Why is it summer in the Southern Hemisphere when it is winter in the Northern Hemisphere? What are the seasons like at the North and South Poles? What are the seasons like at the equator?
Science and Botany: What is the difference between deciduous and coniferous trees? Why do evergreens remain green throughout the winter? Why are evergreens an important part of many of our winter celebrations?
Science: What is the freezing point of water? Do larger containers of water freeze more or less quickly than smaller containers? How does the addition of salt change the freezing point?

Filed under: All Ages, Featured, History and Culture, Science, Weather, Winter · Tags: Ice, Ice Lanterns, Winter, Winter Solstice