Naturally Educational » 1-2 (Toddlers), 3-5 (Preschool), 5-6 (Kindergarten), 6-8 (Early Elementary), 9-11 (Elementary), All Ages, Featured, Home Arts, Taste » A Seusstastic Snack
We're gearing up to celebrate Dr. Seuss's birthday with this healthy Cat in the Hat snack!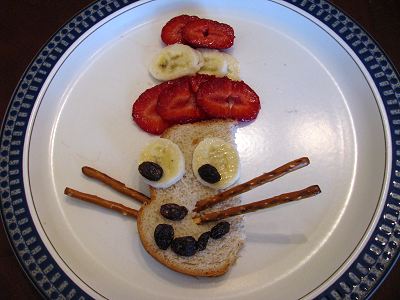 Ingredients:
Raisins
Pretzel sticks
Banana
Strawberries
Wheat Bread
Directions:
1. Cut a slice of wheat bread in half.
2. Slice a banana into coins. Place two coins as eyes.
3. Use raisins to create pupils, a nose, and a smile.
4. Use two pretzel on each side as whiskers.
5. Use rows of slices of strawberries and bananas to create the hat.
Enjoy! Ask your kids if they can make other Seuss characters out of healthy snack supplies!

Filed under: 1-2 (Toddlers), 3-5 (Preschool), 5-6 (Kindergarten), 6-8 (Early Elementary), 9-11 (Elementary), All Ages, Featured, Home Arts, Taste · Tags: Cat in the Hat, Dr. Seuss, Snacks