Naturally Educational » 3-5 (Preschool), 3-5 (Preschool), 5-6 (Kindergarten), 5-6 (Kindergarten), 6-8 (Early Elementary), 6-8 (Early Elementary), Featured, Weather » Some of our Favorite Rainbow Crafts for Kids
We shared our favorite St. Patrick's Day Crafts for Kids. If shamrocks and leprechauns are not your thing, this is also the perfect time to learn about rainbows! The rainy months of March and April provide an opportunity for spotting rainbows, learning how they are formed, checking out rainbow legends, and making your own rainbows!
Paper Plate and Streamer Rainbow (Me – at Lifetime Moms)
Dyed Pasta Rainbow Suncatcher
Tissue Paper Rainbow Suncatcher
Want more rainbow crafts, activities, and books? Check out my Rainbow Connection Pinterest Board for more rainbow crafts for kids! Have a great rainbow craft you think I should add to my board? Just leave it in the comments and I will check it out!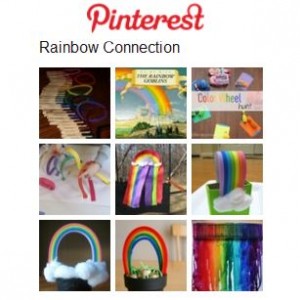 Filed under: 3-5 (Preschool), 3-5 (Preschool), 5-6 (Kindergarten), 5-6 (Kindergarten), 6-8 (Early Elementary), 6-8 (Early Elementary), Featured, Weather · Tags: Rainbows, St. Patrick's Day, Weather