Naturally Educational » 3-5 (Preschool), 5-6 (Kindergartners), 6-8 (Early Elementary), Featured, Home Arts, Science, Spring, Weather » Picture Books about Maple Sugaring and Syrup
If you live in the northern latitudes, I hope you have had an opportunity to go maple sugaring. If you are too far south, try turning maple syrup into maple sugar candy to explore the science of this delicious treat!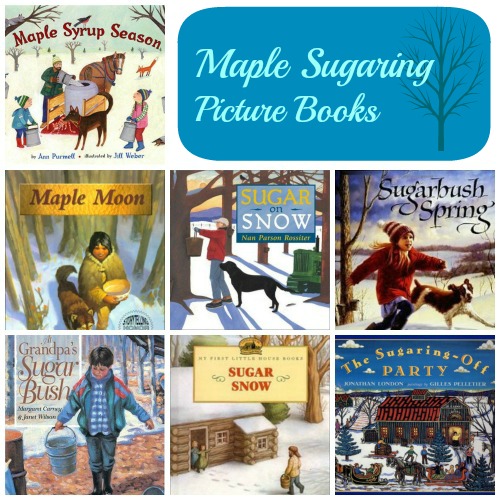 While you are waiting for your pancakes with fresh maple syrup, try these lovely picture books about maple sugaring and maple syrup!
The Sugaring Off Party, by Jonathan London; paintings by Gilles Pelletier: A French-Canadian grandmother recounts her first sugaring off for her grandson. The antics of the children, touches of French, and descriptive language create a complete world. The warmth and joy springs from the page, dripping with nostalgia, just like maple syrup. Lush, naive folk-style paintings reminiscent of Gauguin draw the reader back in time. This was my children's favorite of the bunch.
Maple Moon, by Connie Brummel Crook; illustrated by Scott Cameron: Based on a Native American legend, the chief's wife is replaced by a boy with a handicap. The story is fleshed out into an engaging narrative. Rising above the bullies' taunts and his own physical limitations, the protagonist saves his people from famine.
Maple Syrup Season, by Ann Purmell; illustrated by Jill Weber: It's maple syrup season at the Brockwell family farm. The multi-generational family shares the work of hammering spouts into the maple trees, gathering the sap, and boiling it into syrup. A unique addition shows Grandpa grading the syrup into batches of Fancy, Grade A, and Grade B. An included section on Maple Syrup Lore and a Glossary provide more information. An updated folk-art style provides plenty to examine. I especially like the bits of dialogue pulled onto the illustrations–a perfect opportunity for emerging readers to practice with small phrases of text.
At Grandpa's Sugar Bush, by Margaret Carney; illustrated by Janet Wilson: In this story of a boy helping his grandfatherm the reader gets a sense of the slow process of boiling off sap into syrup. The illustrations draw attention to the signs of the coming Spring in nature.
Sugar on Snow, by Nan Parson Rossiter: A highly-detailed account of two brothers helping their father to gather sap and boil it down into syrup. The vivid, high contrast illustrations evoke late winter and small inset pictures depict local birds. The straightforward narrative emphasizes the boys' teamwork and the joy they take in helping around the farm. The back page has a retelling of a Native American tale  of the discovery of maple syrup.
Sugarbush Spring, by Marsha Wilson Chall; illustrated by Jim Dall: Told through the eyes of a young girl, this maple sugaring tale offers up delightful details, like scrubbing last year's syrup jars for this year's harvest. Facts are woven into the story, like the temperature at which the sap boils into syrup, in an organic and charming way. Naturalistic illustrations match the tone and contribute to the realism. For kindergarteners and elementary-aged children who are ready for a little more information, this is a lovely process book.
Sugar Snow (My First Little House), adapted from Laura Ingalls Wilder books; illustrated by Doris Ettli: Although the Ingalls girls are unable to join in the sugaring, Pa's account of how Grandpa gathers the sap and makes the syrup is still sweet and accessible. And the book provides a small window into mid-19th century prairie life. A great early introduction to the Little House books.

Filed under: 3-5 (Preschool), 5-6 (Kindergartners), 6-8 (Early Elementary), Featured, Home Arts, Science, Spring, Weather · Tags: Colonial America, Maple Sugaring, Maple Syrup, Native American Culture, Spring