Naturally Educational » 0-3 (Babies and Toddlers), 1-2 (Toddlers), 3-5 (Preschool), 3-5 (Preschool), 5-6 (Kindergarten), 5-6 (Kindergartners), 6-8 (Early Elementary), 6-8 (Early Elementary), Featured, Spring, Weather » 14 Children's Books to Welcome Spring
Today is the first official day of spring. On the vernal equinox, the tilt of the Earth is neither towards, nor away, from the sun. In the Northern Hemisphere, spring means the return of warmth and flowers and butterflies.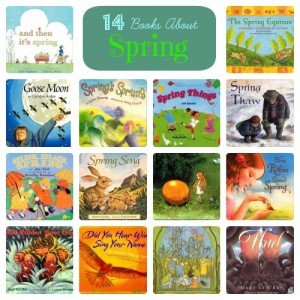 Here are 14 children's picture books to welcome back spring with open arms:
And Then It's Spring, by Julie Fogliano; illustrated by Erin Stead (Ages 3+): A clever little narrative about patiently waiting for the brown of late winter gradually gives way to the green of spring. I love the deceptively old-fashioned illustrations that reveal the changes slowly creeping along. I also love the wabi-sabi state of the illustrated backyard–the boy's milk-carton birdfeeder resembles our own DIY creations. Any child who has ever experienced the hopeful anticipation of spring will recognize the sentiment in this story.
How Robin Saved Spring
, by Debbie Ouellet; illustrated by Nicoletta Ceccoli (Ages 4+): Sweet little Robin is determined to outsmart Lady Winter and wake Sister Spring in this original fairy tale legend. Hauntingly romantic illustrations accompany the animals' (plus one tree's) efforts to break the spell.  This book is in heavy rotation right now at our house and the children love the fanciful explanations of hibernation, Ladybug's spots, Skunk's stripe, and other natural phenomena. I do wish Lady Winter were a bit less villainous–after all she is the personification of a season and Sister Spring's sister. Otherwise, this is a charming new-myth that will captivate children.
Spring's Sprung, by Lynn Plourde; illustrated by Greg Couch (Ages 3+): March, April, and May are personified as squabbling sisters, vying for their mother's affections. Wise Mother Earth soothes and reassures that she loves each for her special, unique self. each month's traditional characteristics (in the North) are revealed throughout the verse. The story certainly does not flinch from the sometimes contentious sibling rivalry so each parent will need to decide if it is a useful addition or fuel for the fire. We found it to be a positive message of celebration and acceptance.
Spring Song, by Barbara Seuling; illustrated by Greg Newbold (Ages 2+): Questions ask what various animals do as spring arrives. the real star of this book, though, is the two-page, highly-detailed, exaggerated perspective, illustrations that bring you right into the animals' worlds. The text is fairly basic but serves as a great prompt for talking about the changes spring brings.
Spring Thaw, by Steven Schnur; illustrated by Stacey Schuett (3+): A lyrical exploration of the arrival of spring on a farm. Highly descriptive language highlights the small, subtle signs that spring is nearing. Unlike many season books, there is insight into the human experience and preparations for the awakening of the earth.  Painterly, impasto illustrations  reveal the rural world alluded to in the text.
Goose Moon, by Carolyn Arden; illustrated by Jim Postier (Ages 4+): A young girl has grown tired of the quiet, indoor winter entertainment and is eager for the spring. One night, her grandfather wakes her to see that the geese have returned from their winter migration. A heart-warming, inter-generational tale that celebrates the quiet, subtle signs nature gives.
The Spring Equinox: Celebrating the Greening of the Earth, by Ellen Jackson; illustrated by Jan Davey Ellis (Ages 4+): A non-fiction exploration of the Spring Equinox and vernal celebrations throughout the world. At the end there is a story of Ostara, the Anglo-Saxon goddess of the dawn and springtime, and a handful of traditional activities, crafts, and recipes.
Did You Hear Wind Sing Your Name?: An Oneida Song of Spring, by Sandra De Coteau Orie; illustrated by Christopher Canyon (Ages 3+): Evocative language follows the springtime awakening of the natural world. The introduction shares that in Oneida "to sing" means "to give thanks". The joy of gratitude for spring radiates from each of the pages. Although the text only alludes to certain ideas, for those who have knowledge of the natural world and Native culture, this book can be a springboard to deeper exploration. Even without those concepts, however, this is a lovely book.
Splish, Splash, Spring, by Jan Carr; illustrated by Dorothy Donohue (Ages 2+): A cute series of rhyming quatrains illuminates the changes a spring shower brings. From the hocus-pocus crocus to the swooping, loop-de-looping kites, there are plenty of lively descriptions to get toddlers (and older kids, too), giggling along. Paper-cut illustrations have an appropriately arts-and-crafts feel for this joyful and animated book.
Red Rubber Boot Day, by Mary Lyn Ray; illustrated by Lauren Stringer (Ages 2+): The indoor and outdoor joys of a rainy spring day come to life in this sweet story. Toddlers will enjoy seeing some of their own favorite activities on the page, like building with blocks or drawing. Broad and vivid illustrations capture the fun of warm, rainy days and red rubber boots.
Spring Things, by Bob Raczka; illustrated by Judy Stead (Ages 0+): Each page has one word or short phrase associated with spring. The brightly-colored  illustrations depict multicultural children and adults enjoying these things of spring. The text is very simple but still evocative of the fun of spring. This book makes a good springboard for discussing springtime activities with a small group or classroom of children.
Story of the Root Children, by Sibylle Von Olfers: In this ethereal tale, the root children awaken, dress in the colors of spring, and prepare the insects and flowers for spring. This early 20th century classic, with its Art-Nouveau illustrations, is charming in its timelessness. After all, the seasons still come and go, even if fashions and parenting and issues of the day change.
Mud, by Mary Lyn Ray; illustrated by Lauren Stringer (Ages 2+): A poetical ode to mud–one of children's chief joys of the spring. If you have little ones who like to bake mud pies and squish toes in the mud, they will enjoy this lush book.
The Sun Egg, by Elsa Beskow (Ages 4+): In this charming little tale of confusion, a tiny elf mistakes an orange for an egg. A quirky cast of characters draws children into a magical world. The story has a naturalistic feel not found in most modern children's stories. There are squabbles and pointless name-calling and grumpiness and silliness that are tangential to the story arc. Part of the fun is the meandering narrative. At the end, there is an amusing reveal of how the entire mix-up began. A classic tale that evokes the return of the sun to the Northern Hemisphere.

Filed under: 0-3 (Babies and Toddlers), 1-2 (Toddlers), 3-5 (Preschool), 3-5 (Preschool), 5-6 (Kindergarten), 5-6 (Kindergartners), 6-8 (Early Elementary), 6-8 (Early Elementary), Featured, Spring, Weather · Tags: Spring, Vernal Equinox