Naturally Educational » 9-12 (Middle Grades), Featured » Join me for a LIVE chat with John Stephens, author of The Emerald Atlas! (1 PM EST April 24)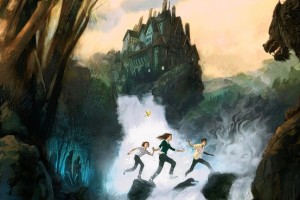 John Stephens, author of The Emerald Atlas, is joining the Random House Read & Play Community for a LIVE CHAT at 1pm EST on Tuesday, April 24.
Are you a fan who cannot make the chat? Just leave a question below and we'll do our best to ask it during the conversation! All responses will be archived.
To join in, either use a BlogFrog account or you can login with Facebook! You can chat in the widget below or jump on over to the thread at the BlogFrog powered Random House Read & Play Community!
About the Author: John Stephens spent ten years in television, and was executive producer of Gossip Girls and a writer for Gilmore Girls and The O.C. He holds an MFA from the University of Virginia and was inspired to write novels for children after reading Philip Pullman's His Dark Materials trilogy.
About The Emerald Atlas (Books of Beginning): A snowy winter's night. Three small children are chased from their home by the forces of a merciless darkness. Ten years later, Kate, Michael and Emma are no closer to the truth about what separated their family.
The answer lies with an enchanted atlas.
Brimming with action, humor, and emotion, The Emerald Atlas is the first book in The Books of Beginning series & the beginning of a journey that will take Kate, Michael, and Emma to strange, dangerous lands and deep within themselves. It is the story of three children who set out to save their family, and end up having to save the world.
The next book in the series, The Fire Chronicle, hits stores this Fall.

Filed under: 9-12 (Middle Grades), Featured