Naturally Educational » 0-3 (Babies and Toddlers), 3-5 (Preschool), 5-6 (Kindergartners), 6-8 (Early Elementary), Featured, Summer » 8 Picture Books to Enjoy in the Summer Sun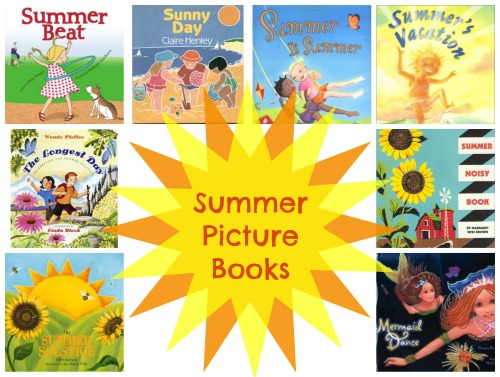 Last year we shared five of our favorite picture books about summer and here are three more summer children's books to add to our list:
Summer's Vacation, by Lynn Plourde: Summer is personified as a carefree young girl in this modern legend. In the illustrations, she has the tan, breezy-barefoot look of a girl enjoying summer to its fullest. However, there is a lesson about responsibility entwined in the story. When Summer plays too long, the earth turns scorched and brown. She works hard with her watering can to revive the plants before passing the baton (and her favorite paints) to her sister, Autumn. This is a lovely springboard for discussing the seasons with young children.
The Summer Noisy Book, by Margaret Wise Brown: This book explores the sounds of summer, as experienced by a little puppy. We always appreciate books that play with language as they are enjoyable for all ages. The bold 1950s illustrations are perfect for the youngest readers.
Mermaid Dance, Summer Noisy Book: A group of colorful mermaids gather to prepare a Summer Solstice feast in this lushly illustrated book. My daughter had a lot of fun examining the illustrations and describing the relationships between the mermaids…although she was a little concerned about the mermaids eating fish. This book is rich in imagination but a bit light on information relating to the start of summer. Still, an enjoyable book that can spark some discussions about how we celebrate and mark the rhythms of our year.
Summer Beat
, by Betsy Franco, explores the rhythms of summer in onomatopoeic verse. The kids really related to the breezy feeling of summer freedom. The sound words are fun for my beginning reader and my son loves the fireworks display at the end!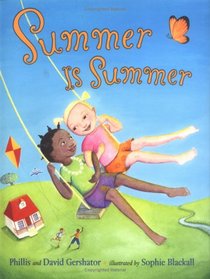 Summer Is Summer, by Phillis and David Gershator, follows a group of multicultural friends as they enjoy the sights, sounds, smells, tastes, and sensations of summer. The simple, spare text paired with rich illustrations makes this perfect for reading to a mixed-age group. On one page, for example, the text "Salty air, Sandy hair-, Summer is summer is summer," accompanies a picture of children building sandcastles of the Eiffel Tower, the Chrysler building, Big Ben, and other famous landmarks.
Sunny Day, by Claire Henley, is a basic description of some of the things you might do and see during a summer's day. Toddlers will enjoy recognizing their own experiences and some of the pages are a good jumping off point for discussion. Ask the youngest kids what they enjoy doing on a sunny day. Preschoolers will enjoy learning why lizards bask in the sun or why ice cream melts. What really sets this book apart are its vivid batik-style illustrations.

The Longest Day: Celebrating the Summer Solstice and The Summer Solstice are two non-fiction books about the science, traditions and legends surrounding the Summer Solstice. They have similar content, including experiments and activities, like making a sun dial, crafting a flower wreathe, or cooking a hotdog with solar power. The Summer Solstice also has a story adapted from a Hawaiian chant.

Filed under: 0-3 (Babies and Toddlers), 3-5 (Preschool), 5-6 (Kindergartners), 6-8 (Early Elementary), Featured, Summer · Tags: Summer, Summer Solstice, Sun