Naturally Educational » Featured, Home Arts, Summer, Taste » Patriotic Ice Pops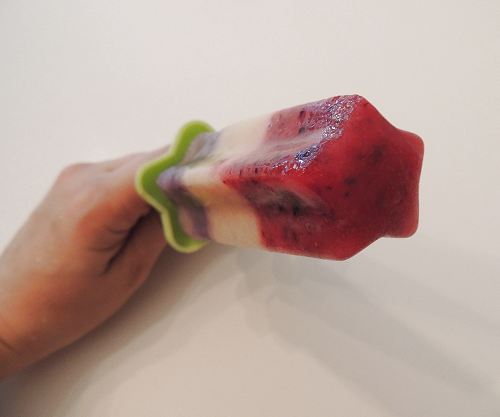 Nothing quite cools during hot summer days like an ice pop. We love our Tovolo Star Ice Pop Molds and wanted to try to make red, white, and blue patriotic Popsicles. The challenge is a natural, non-toxic blue food dye and, after much experimenting, came up with this recipe:
Ingredients
one ripe banana
6-8 large strawberries
a quarter cup of blueberries (optional)
chilled lemonade
4 oz cup of banana or vanilla yogurt
honey or sugar (just for the blue layer)
red cabbage
Directions:
1. Red Layer: Blend 1/2 cup chilled lemonade with strawberries and, if desired, blueberries.Distribute evenly among molds and put in the freezer until it almost sets (20 minutes to an hour).
2. White layer: Blend 1/2 cup of chilled lemonade with a banana and the 4 oz. cup of yogurt. Distribute about 2/3 of the mixture between the molds and put in the freezer until it almost sets (20 minutes to an hour).
3. Blue layer: While the other layers are setting, chop up the red cabbage and boil in a small saucepan for about 15 minutes until some of the leaves start to turn brown and the water becomes a dark purple hue. Strain out the leaves and return the saucepan to the stove top and boil for another 3 minutes to boil off some of the liquid. Add two tablespoons of honey. Let cool. Add baking soda to the mixture (this changes the ph and makes for some fun kitchen science) a pinch at a time. If you add too much, the mixture turns green. Because the lemonade is acidic, it took a while to find the right color. What looked blue in the pan turned back to purple when mixed with the banana/lemonade/yogurt mix. I would start with just a small teaspoon of the pop mix and a drop of the dye. I found that a teal, almost green color created a blue when mixed with the pop mix. Once you have the right color, pour in the last layer and allow your pops to freeze completely.
If you are impatient (like me!) and do not set your layers in between, they will have more of a "tie-dye" effect (like you see in some of the other pops).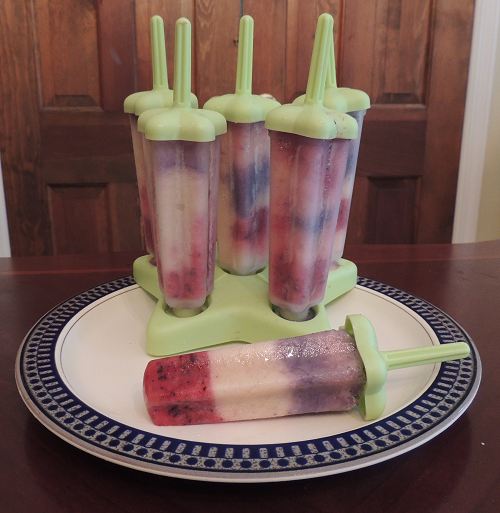 Filed under: Featured, Home Arts, Summer, Taste · Tags: Cooking with Kids, Fourth of July, Ice Pops, Independence Day, July Fourth, Kids in the Kitchen, Patriotic